<% 'This code is strictly when a user clicks on a left nav and needs to be forwarded to another site/program/office if ("" <> "") then Response.Clear Response.Redirect ("") end if %>
Solar Hot Water Resources and Technologies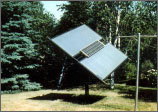 This page provides a brief overview of solar hot water (SHW) technologies supplemented by specific information to apply SHW within the Federal sector.
Overview
Although a large variety of solar hot water systems exist, the basic technology is simple. A collector absorbs and transfers heat from the sun to water, which is stored in a tank until needed. Active solar heating systems use circulating pumps and controls. These are more expensive but are also typically more efficient. Passive systems work without added equipment.
Visit the Department of Energy's (DOE) Solar Technologies Program for in-depth information about solar energy basics and technologies.
Federal Application
Solar hot water systems can be cost-competitive when reducing electricity consumption tied to hot water generation. A typical SHW system reduces the need for conventional water heating by two-thirds. Before conducting an assessment or deploying SHW systems, Federal agencies must evaluate a series of questions and considerations.
What are my energy goals?
Energy goals range from meeting regulatory requirements to powering remote applications to increasing energy security.
Regulatory Requirements: While SHW does not fall under the Energy Policy Act (EPAct) of 2005 definition of renewable energy, the Energy Independence and Security Act (EISA) of 2007 requires 30% of hot water demand in new Federal buildings and major renovations be met with SHW equipment provided it is life-cycle cost-effective.

Remote Power: SHW systems are typically cost-effective in residential and commercial buildings wherever solar resources are available.

Energy Security: Solar energy is natural and renewable. The energy source is found in abundance across the U.S. and can be leveraged to increase energy continuity.
What kind of energy do I use?
Federal agencies must understand what type of energy is used before determining if SHW is applicable. Solar hot water systems generate thermal energy.
When do I need the energy?
Although solar resources can be quite predictable, SHW cannot be guaranteed to generate heat where and when it is demanded like a fossil fuel generator.
Where am I located?
For a broad overview of your facility's solar resources, the National Renewable Energy Laboratory (NREL) provides solar energy resource maps of the U.S. Before initiating a project, solar resources in your area must be measured and verified. Resource maps are a good start, but resources vary at a micro level. It is important to consult an expert for a professional evaluation before implementing energy projects.
Temperature is another location-based consideration. In colder climates, features must be integrated into SHW systems to safeguard against freezing. Frozen water lines can often rupture or damage the system. A resource map

showing the probability of frozen pipes is available.
Is this an existing facility or new construction?
Retrofitting solar hot water systems into existing buildings is possible, but can be complicated by the need to provide access for installing pipes and space in mechanical rooms for larger water storage tanks. Therefore, SHW systems are easier to install in new construction or major renovations.
In addition, new construction and major renovations are required by EISA 2007 to generate at least 30% of hot water from SHW systems.
Is solar hot water cost-effective for my facility?
SHW systems are typically the most cost-effective in small, residential-sized facilities that would otherwise depend on high-cost energy sources; large facilities that require large volumes of hot water (more than 1,000 gallons per day); large facilities that use high-temperature hot water; and swimming pools.
SHW economics depend on several variables, including:
Cost of the fuel SHW replaces
Hot water demand
Hot water usage patterns
Incoming water temperature
Availability of solar energy
What resources are available for operations and maintenance?
In general, solar hot water systems are reliable and do not require much maintenance because they have few, if any, moving parts. The primary components of SHW systems (collectors, heat transfer systems, heat storage, and controls) require routine, periodic maintenance. From time-to-time, individual components may need repair or replacement.
Climate can also impact operations and maintenance costs. In colder climates, steps must be taken to safeguard against freezing. Frozen water lines can often rupture or damage the system. A resource map

showing the probability of frozen pipes is available.
Next steps
Visit the project planning section for detailed information on planning and deploying renewable energy projects. Federal case studies are available to provide specific examples of viable solar energy projects.
Resources
Detailed information on solar energy resources and technologies is available through: