<% 'This code is strictly when a user clicks on a left nav and needs to be forwarded to another site/program/office if ("" <> "") then Response.Clear Response.Redirect ("") end if %>
Solar Ventilation Preheating Resources and Technologies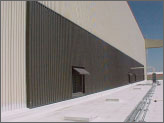 This page provides a brief overview of solar ventilation preheating (SVP) technologies supplemented by specific information to apply SVP within the Federal sector.
Overview
Solar ventilation preheating systems preheat air as it enters a building to lessen the energy burden of heating applications. Systems are approximately 75% efficient, making SVP the most efficient solar air-heating application available today.
In SVP systems, a transpired collector (a dark, perforated metal wall) is installed on the south-facing side of a building, creating an approximately 6-inch gap between it and the building's structural wall. Outside air is drawn through the holes. This air is heated by the wall's warmth. As air rises in the space between the wall and the collector, it is drawn into the building's air duct system, usually by means of a fan, to heat the building.
Visit the Department of Energy's (DOE) Solar Technologies Program for in-depth information about solar energy basics and technologies.
Federal Application
Before conducting an assessment or deploying solar ventilation preheating systems, Federal agencies must evaluate a series of questions and considerations.
What are my energy goals?
Energy goals range from meeting regulatory requirements to powering remote applications to increasing energy security.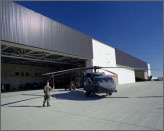 Regulatory Requirements: SVP does not fall under the Energy Policy Act (EPAct) of 2005 definition of renewable energy and cannot be used to meet EPAct 2005 renewable energy requirements. This is because it is thermal energy and not electricity-based. However, SVP systems can reduce energy consumption intensity, which does play a role in other Federal laws and regulations.

Remote Power: SVP systems are typically cost-effective in commercial and industrial buildings wherever solar resources are available.

Energy Security: Solar energy is natural and renewable. The energy source is found in abundance across the U.S. and can be leveraged to increase energy continuity.
What kind of energy do I use?
Federal agencies must understand what type of energy is used before determining if SVP is applicable. Solar ventilation preheating systems generate thermal energy and are not appropriate for electricity or mechanical power.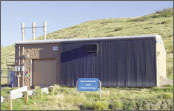 When do I need the energy and how much do I need?
Although solar resources can be quite predictable, SVP cannot be guaranteed to generate heat where and when it is demanded like a fossil fuel generator.
Where am I located?
For a broad overview of your facility's solar resources, the National Renewable Energy Laboratory (NREL) provides solar energy resource maps of the U.S. Before initiating a project, solar resources in your area must be measured and verified. Resource maps are a good start, but resources vary at a micro level. It is important to consult an expert for a professional evaluation before implementing energy projects.
In what type of building is the system intended?
Solar ventilation preheating systems are used primarily in buildings with large ventilated air requirements, such as airplane hangars, warehouses, factories, and chemical storage buildings. Systems can be designed as an integral part of a new building or added as a retrofit project. These buildings typically have large, south-facing walls.
How much space is needed for the collector?
In terms of sizing, one square foot of collector area typically heats 4 to 10 cubic feet of air per minute.
What factors are needed for cost-effective SVP applications?
Factors needed for cost-effective SVP applications include:
High utility rates for heating
A relatively long heating season
The south-facing wall must have enough surface area to mount a collector
What resources are available for operations and maintenance?
Solar ventilation preheating systems require almost no maintenance. There are no liquids and no moving parts other than the ventilation system fans. Performance is not affected even if the collector is dented.
Next steps
Visit the project planning section for detailed information on planning and deploying renewable energy projects. Federal case studies are available to provide specific examples of viable solar energy projects.
Resources
Detailed information on solar energy resources and technologies is available through: