Department of Energy and Office of Energy Efficiency and Renewable Energy Allocation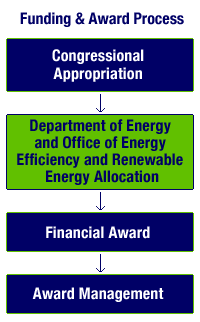 Once appropriations are passed, the Department of Energy disburses the funds to the appropriate agencies and programs. These organizations can then determine how much funding will be available for financial assistance awards. In the Office of Energy Efficiency and Renewable Energy, each program also determines its research priorities for the year. The available financial assistance money is divided among these areas.
These appropriations decisions eventually lead to the formation of solicitations for grant applicants to perform work in the areas of interest. Each solicitation must meet Department of Energy and federal guidelines. To learn more, read the DOE Guide to Financial Assistance.
To learn more about the EERE financial assistance process, read about its other stages: