U.S. Department of Energy - Energy Efficiency and Renewable Energy
EERE Financial Opportunities
Award Management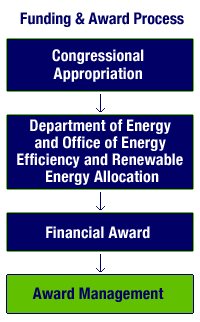 The recipients of financial assistance are responsible for the project and its results. They must monitor project performance, schedules, and subaward recipients. Generally, the Office of Energy Efficiency and Renewable Energy (EERE) limits its involvement to oversight. This is achieved through monitoring, which includes the assessment of programmatic progress and financial and business management.
To keep EERE informed about projects, financial award recipients are required to maintain regular communications about their progress. Most recipients are required to submit progress reports as well as special status reports and a final technical report. In addition, recipients are expected to maintain regular communications through e-mail, teleconferences, and site visits.
Many of EERE's financial awards are now managed through its Project Management Center, a virtual hub of project management information and resources for EERE customers, stakeholders, staff, and contractors. The Project Management Center works with EERE programs to solicit and evaluate project proposals, award financial assistance, and administer the projects. Its Web site contains an extensive collection of recipient resources for managing financial award projects.
To learn more about the EERE financial assistance process, read about its other stages: