U.S. Department of Energy - Energy Efficiency and Renewable Energy
EERE Financial Opportunities
Congressional Appropriation
Each fiscal year, the President must submit a federal budget to Congress. This budget estimates federal income and spending and recommends funding levels for the federal government for the upcoming year. The President's budget is created, with assistance from the Office of Management and Budget, from the budget requests of federal departments and agencies.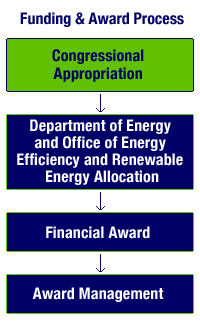 The U.S. Congress, in turn, develops a budget resolution. This outlines its federal budget goals for the next 5 fiscal years and is used as a guide for the House and Senate appropriations committees' work on legislation to fund the activities of the government. With a budget resolution in place, Congress can begin developing appropriations legislation.
Both the House of Representatives and the Senate have committees dedicated to appropriation issues. These committees have subcommittees that review appropriation legislation to allocate funds to government agencies. Each subcommittee considers the portion of the President's request within its jurisdiction, the testimony of government officials, public input, and its own priorities to "mark up" the legislation. When it has finished, the subcommittee passes the bill on to the full committee. The full committee reviews the bill and may also modify it. If the bill is reported out of the committee, it moves to the floor for consideration by all members. The bill is debated, and may be passed or further amended.
Traditionally, appropriation bills start in the House of Representatives. After an appropriation bill is passed by the House of Representatives, the Senate begins its process and uses the House version as its basis.
When appropriation bills are passed by the full House and Senate, a conference committee made up of members of both chambers is formed to negotiate a common version that is acceptable to both sides. After an appropriations bill is passed by Congress, it is sent to the President, who has 10 days to veto it or sign it into law. If he does neither, the bill automatically becomes law after the 10-day period.
To learn more about the EERE financial assistance process, read about its other stages: