U.S. Department of Energy - Energy Efficiency and Renewable Energy
EERE Financial Opportunities
Financial Opportunities for Federal Energy Managers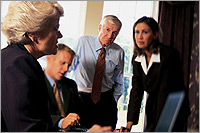 As the largest energy consumer in the United States, the federal government has innumerable opportunities to reduce energy use and demonstrate the benefits of renewable energy.
The Office of Energy Efficiency and Renewable Energy's Federal Energy Management Program Office offers several financing mechanisms to help federal energy managers pay for energy-related projects.
ESPCs allow federal energy managers to improve their facilities without upfront costs. Under this program, energy service companies finance project improvements and recover their costs through the money saved by the use of energy efficiency or renewable energy technologies.

UESCs are another financing mechanism that requires no upfront costs. Through UESCs, federal energy managers can finance efficiency and renewable energy projects through their electric utility. The utility is then repaid through the cost savings incurred from the project.

Energy-Efficiency Incentive Programs

Federal energy managers can also find financial opportunities and cost savings through state and local energy-efficiency incentive programs. The Federal Energy Management Program Office's Energy Incentive Programs Web page provides information about location-specific programs.