U.S. Department of Energy - Energy Efficiency and Renewable Energy
EERE Financial Opportunities
Locating EERE Financial Assistance Opportunities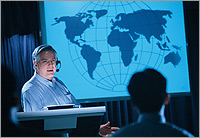 A complete listing of Office of Energy Efficiency and Renewable Energy (EERE) financial assistance solicitations is provided on the Financial Opportunities for Business, Industry, and Universities page of this site. This list includes all active solicitations from EERE.
In addition, all EERE financial assistance opportunities are listed on Grants.gov. These can be accessed through the site's search feature, which tracks listings by keyword, funding opportunity number, Catalog of Federal Domestic Assistance number, date, funding type, funding category, and agency. You can also subscribe with Grants.gov to receive automatic e-mail notification when new opportunities are posted in your area of interest.
Another comprehensive source of federal financial assistance opportunities is the Catalog of Federal Domestic Assistance.
To locate non-EERE financial assistance opportunities, see related solicitations.
Learn more about: