Systems Analysis
NGDS Workshop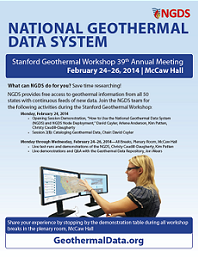 The Geothermal Technologies Office (GTO) Systems Analysis area provides direction, focus and support for answering key questions pertaining to geothermal technology development and commercialization. All geothermal technologies pathways—from innovative exploration to surface power conversion—are the subject of the Systems Analysis area. Systems Analysis includes analysis conducted by the DOE national laboratories, private companies, and universities to guide research, development, and deployment (RD&D) efforts and respond to critical inquiries pertaining to the return on investment obtained by public investments in geothermal RD&D.
Analyses guided and supported by GTO primarily focus on:
Identifying and overcoming technology, market, and industry barriers
Supporting and informing decision-making
Identifying the economic, environmental, and energy security benefits of geothermal development
Demonstrating progress toward GTO goals and directing research efforts
To support these primary functions, GTO's analysis activities focus on the following areas:
A variety of analysis methodologies are used in combination to provide a sound understanding of GTO. Working closely with technology managers and developers is key to including realistic assumptions, both market- and technology-based. The GTO Strategic Planning and Analysis Working Group provides a peer review of analytical efforts.