U.S. Department of Energy - Energy Efficiency and Renewable Energy
Geothermal Technologies Office
Multi-Year Research, Development, and Demonstration Plan: 2009-2015 with Program Activities to 2025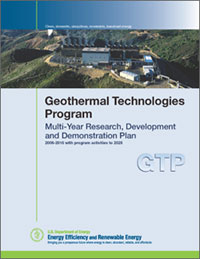 The Geothermal Technologies Office (GTO) Multi-Year Research, Development and Demonstration (MYRDD) Plan was originally published in 2008. The MYRDD Plan describes the planned research, development and demonstration (RD&D) activities for geothermal technologies through 2015, with additional information on potential program activities through 2025.
The Geothermal Technologies Office is currently collaborating with industry, national laboratories, and academia to revise the MYRDD Plan. The revised Plan will be published in 2011.
For more information, contact geothermal@ee.doe.gov.
Download the complete Geothermal Technologies Office Multi-Year Program Plan: 2009-2015 with Program Activities to 2025.
Review the individual sections of the draft Multi-Year Program Plan: 2009-2015 with Program Activities to 2025: