U.S. Department of Energy - Energy Efficiency and Renewable Energy
Geothermal Technologies Office
Program Areas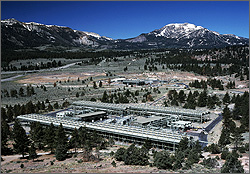 The Geothermal Technologies Office (GTO)'s research and development (R&D) activities are carried out in partnership with industry, academia, and U.S. Department of Energy (DOE) national laboratories to improve technologies for finding, characterizing, accessing, and producing geothermal resources.
While GTO has two performance goals to reach by 2015, it also conducts longer-term R&D on surface and subsurface opportunities for system cost reduction. R&D priorities are focused on overcoming technology barriers that have the greatest potential to hinder the development of viable enhanced geothermal systems at acceptable cost, risk, and timeframes.
R&D efforts are focused in these areas:
Within these areas, GTO has more than 170 active research, development, and demonstration projects being conducted in cost-sharing partnerships with industry and academia. GTO also supports deployment activities designed to move advanced technologies into the geothermal industry, and conducts a broad range of systems analysis that supports and directs its activities.
Please note, heat pump projects are now managed by the Building Technologies Office because the DOE classifies geothermal heat pumps as a technology that makes buildings more energy efficient, productive, and affordable.