Middle School Guide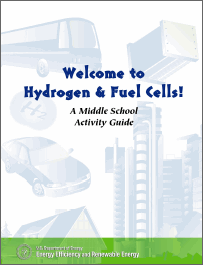 The Fuel Cell Technologies Office has created a complete set of classroom materials to help introduce middle school students to the new and exciting world of hydrogen and fuel cell technology. Materials include:
An Activity Guide
A Middle School Activity Guide - "Welcome to Hydrogen and Fuel Cells!" (PDF 4.2 MB) - This comprehensive guide includes inquiry-based classroom activities that can be used to introduce the concept of a hydrogen economy, hydrogen technologies, how fuel cells work, and hydrogen safety. Each activity is described step-by-step, and includes teacher background information, a list of required materials, and the educational requirements it fulfills in science, language arts, and social studies (this guide maps to the National Research Council's National Science Teaching Standards and the National Standards in Language Arts and Social Studies). Download Adobe Reader.
Classroom Presentations
PowerPoint Show (PPS) files are ready to view on the computer as slide show. PowerPoint Presentation (PPT) files can be printed for handouts and overhead slides or edited to fit your classroom discussion needs.
Hydrogen and Fuel Cells: How is Hydrogen Produced, Delivered and Stored? (PowerPoint Show 4.4 MB) - This presentation discusses hydrogen properties, sources of hydrogen, hydrogen production methodologies, hydrogen storage technologies and challenges, and methods of transporting hydrogen to users.
Electrolysis Equations (PowerPoint Show 27 KB; PowerPoint Presentation 28 KB) - This presentation, to be used in conjunction with the hands-on electrolysis experiment included in the guide, summarizes the chemical reactions that take place during electrolysis to produce hydrogen and oxygen from water.
Classroom Poster
Fuel Cells: Making Power from Hydrogen (PowerPoint 1.04 MB) (PDF 262 KB) - This colorful classroom poster, created by the National Renewable Energy Laboratory, summarizes the basics about how a fuel cell works and how fuel cells are used today.