Distributed/Stationary Fuel Cell Systems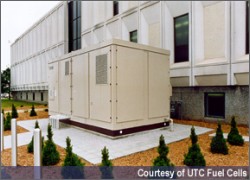 The Department of Energy (DOE) is developing high-efficiency fuel cell systems for distributed and stationary uses as an alternative power source to grid-based electricity for buildings, which account for approximately 36% of the primary energy consumption and 30% to 40% of airborne emissions in the United States. Stationary fuel cells can save energy, reduce emissions, and offer increased reliability compared to traditional technologies.
Here you will find information about learning demonstrations, R&D project status, and technical and cost targets.
Learning Demonstrations
DOE funds stationary/distributed generation learning demonstrations projects to validate fuel cell technologies in real-world applications.
R&D Project Status
The status of DOE's stationary power systems R&D projects is detailed in the fuel cells section of the Annual Progress Reports.
Technical and Cost Targets
Preliminary technical and cost targets for fuel cells used in combined heat and power and auxiliary power applications were released in 2009. These targets are based on Request for Information responses from the fuel cell developer and R&D community. Final targets will be published in the next revision of the Fuel Cell Technologies Office Multi-Year Research, Development and Demonstration Plan due to be released in 2010. The tables below summarize the preliminary targets.
Preliminary Technical Targets: 1–10 kWe Residential Combined Heat and Power Fuel Cells Operating on Natural Gas1

| | 2008 Status | 2012 | 2015 | 2020 |
| --- | --- | --- | --- | --- |
| Electrical efficiency at rated power2 | 34% | 40% | 42.5% | 45% |
| CHP energy efficiency3 | 80% | 85% | 87.5% | 90% |
| Factory cost4 | $750/kW | $650/kW | $550/kW | $450/kW |
| Transient response (10%- 90% rated power) | 5 min | 4 min | 3 min | 2 min |
| Start-up time from 20°C ambient temperature | 60 min | 45 min | 30 min | 20 min |
| Degradation with cycling5 | < 2%/1000 h | 0.7%/1000 h | 0.5%/1000 h | 0.3%/1000 h |
| Operating lifetime6 | 6,000 h | 30,000 h | 40,000 h | 60,000 h |
| System availability | 97% | 97.5% | 98% | 99% |
Preliminary Technical Targets: 1–10 kWe Fuel Cell Auxiliary Power Units Operating on Standard Ultra-low Sulfur Diesel Fuel

| | 2008 Status | 2012 | 2015 | 2020 |
| --- | --- | --- | --- | --- |
| Electrical efficiency at rated power1 | 25% | 30% | 35% | 40% |
| Power density | 17 W/L | 30 W/L | 35 W/L | 40 W/L |
| Specific power | 20 W/kg | 35 W/kg | 40 W/kg | 45 W/kg |
| Factory cost2 | $750/kW | $700/kW | $600/kW | $500/kW |
| Transient response (10%- 90% rated power) | 5 min | 4 min | 3 min | 2 min |
| Start-up time from 20°C ambient temperature | 50 min | 30 min | 10 min | 5 min |
| Degradation with cycling3 | 2.6%/1000 h | 2%/1000 h | 1.3%/1000 h | 1%/1000 h |
| Operating lifetime4 | 3,000 h | 10,000 h | 15,000 h | 20,000 h |
| System availability | 97% | 97.5% | 98% | 99% |