Fuel Cell Technologies Office Newsletter: October 2012
The October 2012 issue of the Fuel Cell Technologies Office newsletter includes stories in these categories:
In the News
Hydrogen Gateway on Open Energy Info Database is Premiered
The Open Energy Info (Open EI) database now includes a hydrogen gateway. Open EI is sponsored by DOE and was developed at the National Renewable Energy Laboratory. This interactive wiki page houses everything from hydrogen fuel cell basics to hydrogen company profiles to compatibility data, technical reports, and assessment tools. Visit the Open EI main page to download apps or view other resources that will help you make better, more informed energy-related decisions.
Upcoming HTAC Meeting to be Held in Mid-November
The Hydrogen and Fuel Cell Technical Advisory Committee (HTAC) will meet in Washington D.C. at the National Renewable Energy Laboratory (NREL) office on Thursday, November 15, from 9:00 a.m. to 6:00 p.m. and on Friday, November 16, from 9:00 a.m. to 12:30 p.m. Dr. David Danielson, Assistant Secretary of the Office of Energy Efficiency and Renewable Energy, will provide a DOE leadership update. View the draft meeting agenda for more information. HTAC meetings are open to the public, however prior registration is required in order to be admitted.
National Science Foundation Science, Engineering, and Education for Sustainability Fellows
Through the Science, Engineering, and Education for Sustainability Fellows Program, NSF provides educational opportunities for Postdoctoral Fellows while emphasizing cross traditional disciplinary boundaries and issues of sustainability while building bridges between academic inquiry, economic growth, and societal needs. Proposed investigations must be interdisciplinary and allow for research experiences beyond a current core disciplinary expertise. The full proposal deadline is November 26, 2012.
Funding Opportunities
Energy Department Announces $1 Million to Evaluate Technology Pathways for Cost-Competitive Hydrogen Fuel
On October 5, the Energy Department announced new funding to evaluate the most promising technology pathways toward achieving DOE's threshold cost goal for hydrogen of $2 to $4-per-gallon of gasoline equivalent by 2020. To help meet this aggressive goal by 2020, the projects selected through this program will help identify cost-effective materials and processes to produce hydrogen from renewable energy sources and natural gas. This effort will include annual analyses of key technology challenges using the Energy Department's hydrogen analysis models in addition to other industry tools. Applications are due by November 13, 2012.
SBIR/STTR Phase I Release 3 Award Winners Announced, Hydrogen Storage and Fuel Cell Manufacturing Projects Included
The U.S. Department of Energy recently announced the FY 2012 Small Business Innovation Research and Small Business Technology Transfer (SBIR/STTR) Phase I Release 3 award winners, including two hydrogen and fuel cell projects located in California and New Jersey.
Nextgen Aeronautics, Inc. of Torrance, California, will incorporate low‐cost nanoreinforcement into high‐pressure all‐composite tank designs to further increase pressure and lower costs, and Treadstone Technologies, Inc. of Princeton, New Jersey, will develop a novel, low cost structured metal bipolar plate technology for low temperature PEM fuel cells for transportation applications.
FY 2013 SBIR/STTR Phase I Release 2 Topics
FY 2013 SBIR/STTR Phase I Release 2 topics have been released and include hydrogen dispenser technologies. The SBIR office hosted a webinar on November 5 to review these newly released topics. View additional information. The full funding opportunity announcement will be released November 26.
Request for Proposal (RFP) for Deployment of Fuel Cell-Based Auxiliary Power Units for Refrigerated Trucks Available from PNNL
The deadline for the previously announced RFP for Deployment of Fuel Cell-Based Auxiliary Power Units for Refrigerated Trucks has been extended to November 26. View the RFP and accompanying information.
Updates and future announcements will be posted on the FCT financial opportunities website.
Webinars and Workshops
DOE Webinar October 16: California Fuel Cell Partnership's Road Map to the Commercialization of Hydrogen Fuel Cell Vehicles
The Energy Department presented a live webcast titled California Fuel Cell Partnership's Road Map to the Commercialization of Hydrogen Fuel Cell Vehicles on October 16, 2012. This webinar focused on the road map, which identifies a need for 68 strategically-placed hydrogen stations in California by January 2016. Now available on the California Fuel Cell Partnership's website, the road map represents a collaborative and collective effort by stakeholders from industry, academia, non-governmental organizations, and government to design a pragmatic plan for hydrogen station placement that enables the deployment of tens of thousands of fuel cell electric vehicles in California. Slides and a recording of the webinar are available.
Upcoming Webinars
Fuel Cell Mobile Lighting — November 13, from 12:00 to 1:00 p.m. Eastern Standard Time.
The Fuel Cell Mobile Light Project was conceived by the Boeing Company in order to gain operational experience with fuel cells used in the ground support equipment (GSE) that service airplanes. Examples include the mobile lighting systems used in aircraft maintenance. With subsequent DOE funding, the project goals extended beyond the aviation GSE target and became a development effort to bring to the marketplace the first piece of fuel-cell-based construction equipment — the Fuel Cell Mobile Light. The project activities of the past couple of years will be described by the project lead, Lennie Klebanoff of Sandia National Laboratories. In addition, the perspectives of the fuel cell manufacturer Altergy Systems will be presented by Chris Radley. Torsten Erbel of Multiquip will give the commercialization plan, including the development of a new technology platform within the Multiquip Earthsmart product line, based on fuel cell technology. Register to attend this webinar.
JOBS and economic impacts of Fuel Cells (JOBS FC) Analysis Model Status — December 11, from 12:00 to 1:00 p.m. Eastern Standard Time.
Visit our website to see webinar archives or workshop presentations.
Studies, Reports, and Publications
New Record Available: Hydrogen Produced from Natural Gas
A new record has been added to the Hydrogen and Fuel Cells Program Record Database regarding hydrogen produced from natural gas. Record #12024 states that hydrogen produced and dispensed in distributed facilities at high-volume refueling stations using current technology and DOE's Annual Energy Outlook (AEO) 2009 projected prices for industrial natural gas result in a hydrogen levelized cost of approximately $4.50 per gallon-gasoline-equivalent (gge) (untaxed) including compression, storage and dispensing costs. The hydrogen production portion of this cost is about $2.00/gge. In comparison, current analyses using low-cost natural gas with a price of $2.00 per MMBtu can decrease the hydrogen levelized cost to $3.68 per gge (untaxed) including compression, storage and dispensing costs. The production cost portion of hydrogen produced at distributed retail stations could decrease to $1.21 per gge.
Visit our website to access technical information about hydrogen and fuel cells. This information is provided in documents such as technical and project reports, conference proceedings and journal articles, technical presentations, and links to other websites.
National Laboratory and Principal Investigator Achievements
Drs. Nenad Markovic and Vojislav Stamenkovic Receive The University of Chicago Argonne, LLC Board of Governors Distinguished Performance Awards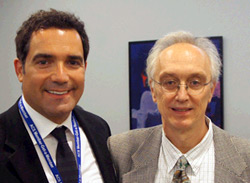 On August 16, 2012, Drs. Nenad Markovic and Vojislav Stamenkovic of the Materials Science Division received a Distinguished Performance Award for pioneering research on the design and synthesis of multi-functional electrochemical interfaces.
Their research at Argonne National Laboratory (ANL) has focused on the discovery of novel ways to transform chemical energy into electricity, and in the utilization of electrochemistry to create superior materials for applications in energy conversion and storage systems. Their work related to the design and synthesis of electrochemical interfaces for efficient energy conversion and storage is supported by both DOE BES and DOE EERE programs.
Dr. David L. Greene of Oak Ridge National Laboratory to be Honored with Roy W. Crum Award

Dr. David Greene, Corporate Fellow at Oak Ridge National Laboratory, has been selected to receive the Transportation Research Board's (TRB) 2012 Roy W. Crum Award, which recognizes outstanding achievement in transportation research. He will be presented with the award at the TRB's Annual Meeting on January 16, 2013. Dr. Greene has worked on DOE programs for 35 years. He continues to make distinguished contributions to energy policy research and analysis for transportation, and to advance understanding of the transportation sector's role in energy and environmental concerns.
Dr. Ian M. Robertson Selected to Receive the ASM 2014 Edward DeMille Campbell Memorial Lectureship Award

ASM International, formerly known as the American Society for Metals, has selected Dr. Ian Robertson to receive the ASM 2014 Edward DeMille Campbell Memorial Lectureship Award. This lecture was established in 1925, in memory of Edward DeMille Campbell, a distinguished Honorary Member of ASM. Dr. Robertson is the Donald B. Willett Professor of Engineering at the University of Illinois where his program focuses on understanding the basic processes controlling the mechanical response of materials exposed to extreme conditions. He, along with H. K. Birnbaum, earned the DOE Award for Outstanding Scientific Accomplishment in 1984.
LBNL's Fuel Cell Deployed in Clean-Burning Cookstoves in Developing Countries
LBNL's metal-supported solid oxide fuel cell technology has been licensed by Point Source Power and will be marketed to developing countries. The small fuel cells can be used in a cook stove to generate power. The stove gasifies the unburnt hydrocarbons and the fuel cell converts the gas to power — enough power to charge a cell phone, run an LED light, or power a fan to make the cook stove burn even more cleanly and efficiently. The first market being looked at is in Kenya.