Hydrogen Fuel Cell Portable Light Tower Lights Up the Golden Globe Awards
January 25, 2011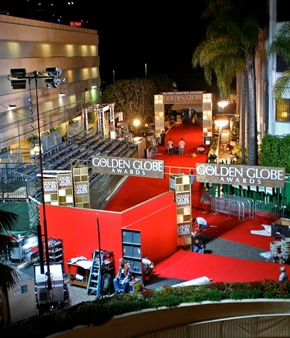 Photo courtesy Altergy.
The world's first hydrogen fuel cell-powered mobile light tower lit up the Golden Globe Awards on Sunday, January 16th. The Multiquip portable light tower, developed in collaboration with Altergy Systems, integrates clean, reliable backup fuel cell power technology with filament-free, efficient plasma light technology. The DOE Fuel Cell Technologies Program and Sandia National Laboratories are key stakeholders supporting the development and commercialization of this product.
Designed to be an environmentally friendly and quiet alternative to noisy diesel generators, these portable light towers can be used in the entertainment industry, highway construction sites, and airports. The system is scheduled for use at the Screen Actors Guild Awards and the GRAMMY Awards, as well as upcoming NASA space shuttle launches.