Fuel Cell Technologies Office Newsletter: September/October 2013
The September/October 2013 issue of the Fuel Cell Technologies Office newsletter includes stories in these categories:
In the News
Energy Department Launches National Fuel Cell Technology Evaluation Center to Advance Fuel Cell Technologies
Following Energy Secretary Ernest Moniz's visit to the National Renewable Energy Laboratory (NREL), the Energy Department announced the unveiling of EERE's national secure data center for the collection and analysis of hydrogen and fuel cell data. The National Fuel Cell Technology Evaluation Center (NFCTEC) is dedicated to the independent analysis of advanced hydrogen and fuel cell technologies, and it is located at the Energy Department's Energy Systems Integration Facility (ESIF) at NREL in Golden, Colorado.
President Obama Gets Up-Close Look at Fuel Cell Mobile Charger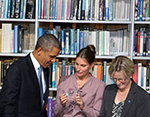 President Barack Obama visited with fuel cell researchers from the KTH Royal Institute of Technology in Sweden, where he got an up-close look at a myFC PowerTrekk fuel cell mobile charger powered by a hydrogen storage device that was developed in part with EERE funding. SiGNa Chemistry's hydrogen storage technology, which has previously received funding from EERE's Fuel Cell Technologies Office, can be used with portable fuel cell devices to charge electronics such as cell phones and audio players. EERE funding for hydrogen and fuel cells has led to more than 450 patents, 60 commercial technologies, and 65 technologies that are projected to be commercial within the next three to five years.
Energy Department Launches App on Hydrogen Use
As part of the Obama Administration's commitment to expand access to data and develop clean, domestic energy sources, the Energy Department recently launched a new app developed by PNNL to more easily provide best practices and procedures for safely handling and using hydrogen. The Hydrogen Tools app incorporates a variety of resources and Web-based content focusing on the safe use and handling of hydrogen for those involved in designing, approving, or using hydrogen fuel cell systems and facilities, and it is available for the iPhone and iPad at no cost from the Apple App Store.
Fuel Cell Electric Vehicles at the Solar Decathlon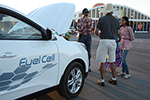 For the first time, this year's visitors to the DOE's Solar Decathlon were able to experience a transportation component, in addition to the solar powered home challenge. The new Transportation Zone included green fuel and electric vehicle manufacturer exhibits, gift packs, rebate programs and, thanks to the California Fuel Cell Partnership (CaFCP), fuel cell electric vehicles. The CaFCP booth featured the latest hydrogen-powered vehicles, games, prizes, and expert staff to help you learn more about hydrogen fueling, fuel cells, and zero-emission vehicles.
Follow EERE on Facebook for More News
Sign up today to follow EERE on Facebook and receive more news from all of EERE's offices, including the Fuel Cell Technologies Office.
Funding Opportunities
Energy Department Announces up to $4 Million for Advanced Hydrogen Storage
Earlier this week the Energy Department announced up to $4 million in new funding for the continued development of advanced hydrogen storage systems and novel materials to provide onboard storage for a wide range of emerging fuel cell applications, including fuel cell electric vehicles, material handling equipment, and portable power. More information, application requirements, and instructions can be found on the EERE Funding Opportunity Exchange website.
Updates and future funding opportunity announcements will be posted on the Fuel Cell Technologies Office's financial opportunities website.
Webinars and Workshops
Upcoming Webinar November 14: Additive Manufacturing for Prototyping and Full Scale Development
On Tuesday, November 14, the Energy Department will present a webinar on additive manufacturing to stimulate discussion in the hydrogen and fuel cell community on the application of additive manufacturing to prototyping and production. Presentations by Eaton and General Electric (GE) will highlight Eaton's experience using additive manufacturing for prototype development, as well as recent advancements in additive manufacturing for full scale production being employed at GE. This webinar will be of interest to hydrogen and fuel cell manufacturers and those interested in advanced techniques for hydrogen and fuel cell component manufacturing. Register for the webinar.
Upcoming Webinar November 19: Micro-Structural Mitigation Strategies for PEM Fuel Cells
On Tuesday, November 19, the Energy Department will present a webinar on micro-structural mitigation strategies for PEM fuel cells focusing on morphological simulations and experimental approaches. Presented by Ballard Power Systems, the webinar will highlight an open-source fuel cell simulation package funded by EERE that allows users to simulate both the performance and durability of a PEM fuel cell membrane electrode assembly. In this webinar, the details of the model will be discussed with a focus on the theory, background, and validation/results of the simulation package. Register for the webinar.
Webinar September 10: What We Can Learn from the Hydrogen Safety Events Database
On September 10, the Energy Department presented a bilateral (DOE and European Commission) webinar highlighting important safety event database tools that have been developed to bring lessons learned and related information to the forefront of the hydrogen community. Held in conjunction with the 5th International Conference on Hydrogen Safety (ICHS2013), the webinar included an overview of Europe's Hydrogen Incident and Accident Database (HIAD) and the United States' Hydrogen Incident Reporting and Lessons Learned Database. Slides and a recording of the webinar are available.
Webinar September 12: Fuel Cell Buses
On September 12, the Energy Department presented a webinar on fuel cell buses. Following an update by DOE's National Renewable Energy Laboratory, the Center for Transportation and the Environment presented a summary of worldwide fuel cell bus activities on behalf of the Federal Transit Administration's National Fuel Cell Bus Program, highlighting key strategies and partnerships and how these are shaping the future of fuel cell bus adoption. This was followed by a presentation by the California Fuel Cell Partnership on its California Fuel Cell Bus Roadmap, providing a strategy to move fuel cell bus technology from the current stage of full-scale validation to early commercialization through Centers of Excellence by 2016. Slides and a recording of the webinar are available.
Visit our website to see webinar archives or workshop presentations.
Studies, Reports, and Publications
Hydrogen Production Expert Panel Report Published
The Hydrogen Production Expert Panel (HPEP), a Hydrogen and Fuel Cell Technical Advisory Committee (HTAC) subcommittee, recently published major findings from their May 10–12, 2012 workshop. Tasked with providing recommendations to enable the widespread production of affordable, low carbon hydrogen, HPEP collected input from experts from industry, academia, and national laboratories during the workshop and developed recommendations based on that input. HTAC was established under Section 807 of the Energy Policy Act of 2005 to provide technical and programmatic advice to the Energy Secretary on DOE's hydrogen research, development, and demonstration efforts.
Fuel Cell Technologies Office Technology Validation Activities
Learn more about technology validation efforts of the Fuel Cell Technologies Office from a new fact sheet. The Technology Validation team leads the effort in data collection for both vehicle and stationary demonstrations. Data collected from these demonstrations helps DOE guide its hydrogen and fuel cell component and materials research and may also uncover new technical and institutional challenges that have not yet been considered. Data collected from early market deployments support business case development to encourage continued adoption of fuel cell technologies.
Visit our website to access technical information about hydrogen and fuel cells. This information is provided in documents such as technical and project reports, conference proceedings and journal articles, technical presentations, and links to other websites.