U.S. Department of Energy - Energy Efficiency and Renewable Energy
Fuel Cell Technologies Office
Fuel Cell Technologies Office Newsletter: January 2013
The January 2013 issue of the Fuel Cell Technologies Office newsletter includes stories in these categories:
In the News
FCT at Energy All Stars Inauguration Event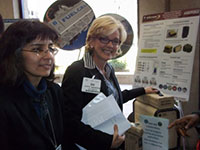 Former Michigan Governor and clean energy advocate Jennifer Granholm poses with the DOE's Fuel Cell Technologies (FCT) Office Director Sunita Satyapal at DOE's Energy All Stars Event on January 19. Fuel cells like the one she is examining are being used to generate portable power for soldiers in places like Afghanistan and will soon be manufactured in her home state of Michigan. The FCT Office acknowledges the U.S. Army's Communications-Electronics Research, Development and Engineering Center, who provided the fuel cells for the event.
Part of Inauguration Weekend, the DOE-hosted Energy All Stars event featured prominent energy leaders outlining what our energy future can and should look like, and steps that can be taken to achieve that vision. Watch these incredible presentations.
10 Questions for a Materials Scientist: Brian Larsen
An interview with Brian Larsen, a materials scientist at the Energy Department's National Renewable Energy Laboratory and one of the recipients of the 2012 Energy Efficiency and Renewable Energy (EERE) Postdoctoral Research Awards, is currently posted on the Energy Department's blog.
Read the blog entry to learn about Larsen's work on developing the next generation of fuel cell catalysts and how the research award has impacted his career. Application to the 2013 EERE Postdoctoral Research Awards Program is currently open and will close on February 28, 2013.

New Energy Rock Star – Eric Miller
On January 16, EERE Assistant Secretary Dave Danielson name Eric Miller, FCT Hydrogen Production and Delivery team member, as one of the newest Energy Rock Stars. Eric was recognized for his overall industry leadership; in particular in assembling the Hydrogen Production Expert Panel of key leaders, which produced high-level recommendations for DOE on R&D needs, and how to achieve commercial-scale low-carbon hydrogen production for a cleaner energy future. Congratulations Eric!
Funding Opportunities
SBIR FOA Released: Includes Hydrogen Dispenser Technologies
The Department of Energy has issued its FY 2013 Phase I Release 2 Funding Opportunity Announcement (DE-FOA-0000801) for the Small Business Innovation Research (SBIR) and Small Business Technology Transfer (STTR) Programs. Issued by the Office of Basic Energy Science, Topic 6 is "Hydrogen Dispenser Technologies." Qualified small businesses with strong research capabilities in science or engineering in any of the research areas sought in the announcement are encouraged to apply. Applications are due February 5, 2013.
Updates and future announcements will be posted on the FCT financial opportunities website.
Webinars and Workshops
Upcoming Webinar February 12: Advanced Electrocatalysts for PEM Fuel Cells
The Energy Department will present a live webinar on February 12, 2013 highlighting Argonne National Laboratory's (ANL's) development of advanced electrocatalysts for PEM fuel cells, including rational design and synthesis of materials for cathodes. Materials development, based on fundamental principles, is used to produce Pt-Skin structures with unique nanosegregated compositional profiles for electrodes that meet the demanding performance requirements of automotive applications. Register to attend the webinar.
DOE Webinar on Wind-to-Hydrogen Cost Modeling and Project Findings
The Energy Department presented a live webinar on Thursday, January 17, highlighting the National Renewable Energy Laboratory's (NREL) Wind-to-Hydrogen project findings. The webinar focused on cost modeling of optimized central wind-based water electrolysis production. Through a recent project, NREL analyzed the cost of hydrogen production via wind-based water electrolysis at 42 potential sites in 11 states across the nation. Slides and a recording of the webinar are now available.
Visit our website to see webinar archives or workshop presentations.
Studies, Reports, and Publications
DOE Hydrogen and Fuel Cells Program Releases 2012 Annual Progress Report
The U.S. Department of Energy (DOE) Hydrogen and Fuel Cells Program reports on activities and progress in its recently published 2012 Annual Progress Report. This document contains individual reports from projects funded by the program, summarizing the innovative work of scientists, engineers, and other experts from industry, academia, and national laboratories.
DOE Fuel Cell Bus Analysis Finds Fuel Economy to be up to Two Times Higher than Diesel
Published on January 4, the Fuel Cell Buses in U.S. Transit Fleets: Current Status 2012 report from the U.S. Department of Energy (DOE) shows that the fuel economy of fuel cell electric buses is 1.8 to 2 times higher than conventional diesel buses (4 mpg) and compressed natural gas buses (3 mpg). This demonstrates significant fuel economy improvement toward the DOE and Federal Transit Administration's (FTA) target of 8 mpg (diesel equivalent).
Hydrogen Safety Best Practices Manual
The Hydrogen Safety Best Practices Manual is an online manual that captures the wealth of knowledge and experience related to the safe handling and use of hydrogen that exists as a result of its extensive history in a wide variety of applications. The purpose of the manual, prepared collaboratively by Pacific Northwest National Laboratory and Los Alamos National Laboratory, is to share the knowledge gathered from numerous experts, public domain documents, and references in an online, easy-to-use manner.
Visit our website to access technical information about hydrogen and fuel cells. This information is provided in documents such as technical and project reports, conference proceedings and journal articles, technical presentations, and links to other websites.
National Laboratory and Principal Investigator Achievements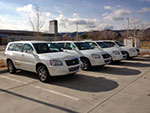 NREL Acquires Fuel Cell Electric Vehicles
NREL has acquired four Toyota Fuel Cell Hybrid Vehicles on loan that will be showcased at public events and used to expand and facilitate infrastructure research. Vehicles will be fueled by renewable hydrogen made from wind and solar energy using NREL's Wind-to-Hydrogen Project, which uses wind turbines and photovoltaic arrays to power electrolyzers that split water into hydrogen and oxygen.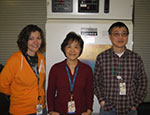 NREL Lab Finds Out How Cyanobacteria Build Hydrogen-Producing Enzyme to Help Humans Improve Microbial Hydrogen Production
Pin-Ching Maness' lab at NREL recently demonstrated how the Cyanobacteria Synechocystis assembles five different proteins to make a functional hydrogen-production system (a hydrogenase enzyme). Like many (human) manufacturers, Synechocystis uses modular assembly to combine parts with different roles (proteins) into a functional unit (the active hydrogenase enzyme). This will help guide future modifications to improve the hydrogenase activity. The work was published in the December 2012 issue of the Journal of Biological Chemistry.