U.S. Department of Energy - Energy Efficiency and Renewable Energy
Fuel Cell Technologies Office
Fuel Cell Technologies Office Newsletter: January 2014
The January 2014 issue of the of the Fuel Cell Technologies Office newsletter includes stories in these categories:
In the News
SLIDESHOW: Secretary Moniz Tours 2014 Washington Auto Show
At the Washington Auto Show, Secretary Moniz highlighted the Energy Department's role in developing the next generation of fuel-efficient and electric vehicles and visited some of the latest vehicles that have benefitted from Energy Department research and development. Featured fuel cell vehicles include Hyundai's Tucson fuel cell vehicle that will be available in spring 2014, and a Toyota fuel cell concept car that will be available in 2015.
Live Discussion on Energy 101: Fuel Cells
On January 16, the Energy Department held an Energy 101 Google+ Hangout, which focused on fuel cells. This Hangout was the very first in a new series of Google+ Hangouts about energy basics launched by DOE. Pulling together experts from the Energy Department (including the Fuel Cell Technologies Office Director), our National Laboratories, academia and industry, the Energy 101 Google+ Hangout series will cover everything you need to know about specific energy topics while answering your questions. Watch the recorded Google+Hangout and see the DOE blog, You Asked, We're Answering Your Fuel Cell Questions, with additional questions and answers.
Help Design the Hydrogen Fueling Station of Tomorrow
An EERE blog about this year's Hydrogen Student Design Contest was posted on January 9. The contest invites teams of undergraduate and graduate students specializing in several areas of expertise including chemistry, industrial design, engineering, business, environmental science, and policy, to plan and design a drop-in fueling station (about the size of a freight container) which is low-cost, low-maintenance, and can be easily transported.
Biological Hydrogen Production Request for Information
The U.S. Department of Energy's (DOE) Fuel Cell Technologies Office issued a request for information (RFI) seeking feedback from interested stakeholders regarding biological hydrogen production research and development (R&D) pathways, barriers, issues and opportunities for development of technologies that can ultimately produce low cost hydrogen that meets DOE goals. RFI responses must be received no later than 5:00 p.m. (EDT) on February 28, 2014.
Follow EERE on Facebook for More News
Sign up today to follow EERE on Facebook and receive more news from all of EERE's offices, including the Fuel Cell Technologies Office.
Funding Opportunities
Energy Department Announces up to $4 Million Soliciting Projects to Advance Hydrogen Delivery Technology Development
On November 15, the Energy Department announced up to $4 million soliciting projects to address critical challenges and barriers to advanced hydrogen delivery technology development. The new funding opportunity seeks projects focused on innovative hydrogen delivery materials, components, and systems needed to establish the technical and cost feasibility for renewable and low carbon hydrogen delivery. Full applications from those who previously submitted concept papers are due February 14, 2014.
SBIR/STTR Phase I Release 2 Technical Topics Announced for FY14—Fuel Cell Topics Included
On October 31, the U.S. Department of Energy announced the Fiscal Year 2014 Small Business Innovation Research and Small Business Technology Transfer (SBIR/STTR) Phase I Release 2 technical topics. These topics include prototype fuel cell-battery electric hybrid trucks for waste transportation and novel membranes and non-platinum group metal catalysts for direct methanol as well as hydrogen fuel cells. The full SBIR/STTR Funding Opportunity Announcement was issued on November 25, 2013, and applications are due February 4, 2014.
DOE NSF Partnership to Address Critical Challenges in Hydrogen Production from Solar Water Splitting
EERE and the National Science Foundation (NSF) announced a funding opportunity in the area of renewable hydrogen technology research and development. Proposals are invited to specifically address discovery and development of advanced materials systems and chemical processes for direct photochemical and/or thermochemical water splitting for application in the solar production of hydrogen fuel. Full proposals are due February 10, 2014.
Updates and future funding opportunity announcements will be posted on the FCT Office's financial opportunities website.
Webinars and Workshops
Upcoming Webinar February 11: Additive Manufacturing for Fuel Cells
On Tuesday, February 11th, the Energy Department will present a webinar on additive manufacturing to stimulate discussion in the hydrogen and fuel cell community on the application of additive manufacturing to prototyping and production. Presentations by Eaton and Nuvera will highlight Eaton's experience using additive manufacturing for prototype development and recent developments in additive manufacturing for full scale production being employed at Nuvera. Blake Marshall from the Advanced Manufacturing Office will also present an overview of additive manufacturing technologies and current R&D activity being supported by the Energy Department. This webinar will be of interest to hydrogen and fuel cell manufacturers and those interested in advanced techniques for hydrogen and fuel cell component manufacturing. Register here for the webinar.
January 14th Webinar: Hydrogen Student Design Contest
This webinar focused on the winning entries of the 2013 Hydrogen Student Design Contest from the University of Kyushu and the University of Birmingham. During the 2013 competition, teams were challenged to develop hydrogen fueling infrastructure plans for the Northeast and mid-Atlantic for the 2013-2025 timeframe. The first place winner, the University of Kyushu, focused their design on developing fueling clusters in urban areas, which then are expanded into suburban areas and along highways to facilitate interstate travel. The University of Birmingham placed second and proposed a "hydrogen highway" system connecting Boston to Washington D.C. before connecting most areas in the Northeast. During the webinar the theme for the 2014 contest — Designing a Drop-in Fueling Station — was also discussed. Slides and a recording of the webinar are available.
Visit our website to see webinar archives or workshop presentations.
Studies, Reports, and Publications
The Business Case for Fuel Cells
The Business Case for Fuel Cells, compiled by Fuel Cells 2000 with support from the Fuel Cell Technologies Office, profiles a select group of nationally recognizable companies and corporations that are deploying or demonstrating fuel cells. These businesses are taking advantage of a fuel cell's unique benefits, especially for powering lift trucks and providing combined heat and power to their facilities.
New Fuel Cell Technology Success Stories
Two new fuel cell stories have been posted to EERE's Successes web site. Learn more about an EERE-supported catalyst licensed that is going to be used in Toyota Fuel Cell Hybrid Advanced Vehicles and how Oak Ridge National Laboratory optimized carbon fiber production and reduced costs by 30%.
Visit our website to access technical information about hydrogen and fuel cells. This information is provided in documents such as technical and project reports, conference proceedings and journal articles, technical presentations, and links to other websites.
National Laboratory and Principal Investigator Achievements
10 Questions for a Scientist: Dr. Adam Weber of Lawrence Berkeley National Laboratory
Dr. Adam Weber of the Energy Department's Lawrence Berkeley National Laboratory was honored for his cutting edge work to help make hydrogen fuel cells and their components more efficient and durable with a Presidential Early Career Awards for Scientists and Engineers, the federal government's highest honor for science and engineering professionals in the early stages of their careers. Nominated by EERE's Fuel Cell Technologies Office, Dr. Weber is congratulated by the office as the PECASE awardee for all of EERE.
LANL Offers STEM Internships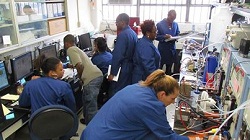 The Energy Department's Los Alamos National Laboratory is partnering with the National Nuclear Security Administration and 5 historically African-American Colleges and Universities to offer a STEM internship program. The program gives students access to cutting edge resources and technology housed at Energy Department facilities. The pictured students are running tests on state-of-the-art fuel cells at Los Alamos.