U.S. Department of Energy - Energy Efficiency and Renewable Energy
Fuel Cell Technologies Office – Hydrogen Production
Photoelectrochemical Water Splitting

In this process, hydrogen is produced from water using sunlight and specialized semiconductors called photoelectrochemical materials. In the photoelectrochemical (PEC) system, the semiconductor uses light energy to directly dissociate water molecules into hydrogen and oxygen. Different semiconductor materials work at particular wavelengths of light and energies.
Research focuses on finding semiconductors with the correct energies to split water that are also stable when in contact with water. Photoelectrochemical water splitting is in the very early stages of research but offers long-term potential for sustainable hydrogen production with low environmental impact.
Learn more about photoelectrochemical hydrogen production in Technoeconomic Analysis of Photoelectrochemical (PEC) Hydrogen Production.
Potential Designs for Photoelectrochemical Water-Splitting Systems
Single PEC Slurry-Phase Reactor System for Water Splitting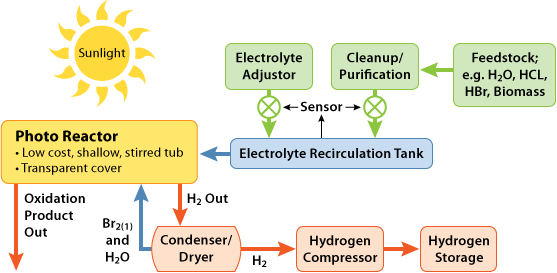 ---
Dual Photosystem Slurry-Phase Reactor System for Overall Water Splitting (Br3- Transfer Ion Example)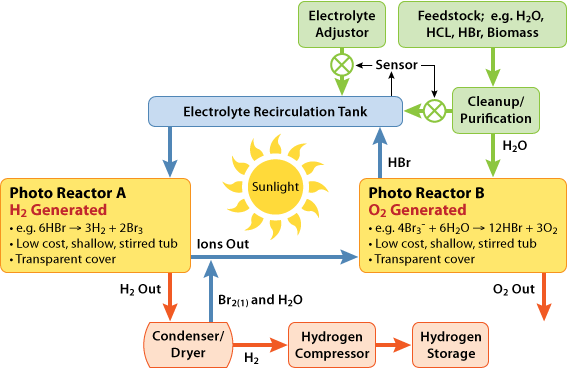 ---
Photoelectrode System Block Diagram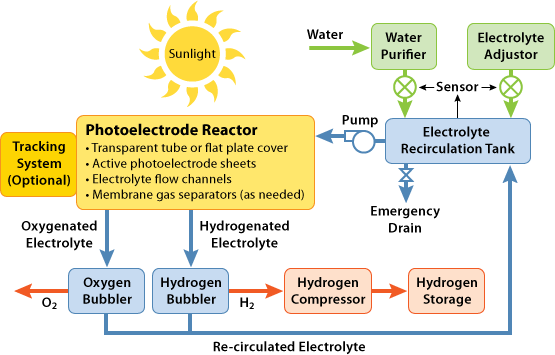 ---
Photoelectrode Reactor Schemes