About the Office
Leadership in Advanced Manufacturing and Clean Energy Technologies
Why Manufacturing Matters:

"[M]anufacturing is a disproportionately important driver of R&D. Many innovations and technologies that are developed in manufacturing also can be used to increase productivity in other sectors."

Manufacturing the Future: The Next Era of Global Growth and Innovation, McKinsey Global Institute, November 2012

"Manufacturing creates more value across the economy per dollar spent than any other sector."

Capturing Domestic Competitive Advantage in Advanced Manufacturing, PCAST, July 2012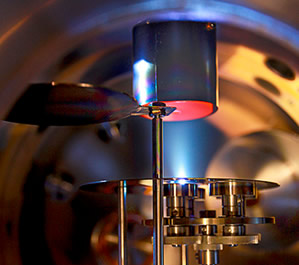 What We Do
We partner with industry, small business, universities, regional entities, and other stakeholders to identify and invest in emerging clean energy technologies. We establish collaborative communities focused on developing and commercializing targeted technologies; play a leadership role in the national interagency Advanced Manufacturing Partnership; and encourage a culture of continuous improvement in corporate energy management. Our investments have high impact, use project diversity to spread risk, target nationally important innovation at critical decision points, and contribute to quantifiable energy savings.
By reducing the life-cycle energy consumption of manufactured goods by 50 percent over 10 years, we will support the creation of high-quality domestic manufacturing jobs and enhance the competitiveness of the United States.
EERE's Clean Energy Manufacturing Initiative (CEMI) connects AMO's investments in the development of innovative process and materials technologies over 3 decades with R&D in other EERE offices and focuses on the urgent economic opportunities in U.S. clean energy manufacturing to strengthen U.S. competitiveness across multiple manufacturing industries through increased energy productivity.
Why It Matters
Manufacturing converts a wide range of raw materials, components, and parts into finished goods that meet market expectations. Game changing investments in Advanced Manufacturing—efficient, productive, highly integrated, and tightly controlled processes—have the potential to fill the innovation gap between research and full "to scale" industrial production. As an end-use sector, manufacturing is the most diverse in the U.S. economy in terms of its energy sources, foundational technologies, and the products manufacturing produces. In 2011, U.S. manufacturing was responsible for 12%1 of GDP, direct employment for about 12 million people,1 and 70%2 of all business R&D performed; and close to 73%2 of U.S. exports of goods; production of 17%3 of the world's manufacturing output, and 25%4 of U.S. energy use.
Bringing Innovative Manufacturing Technologies and Materials to Full "To Scale" Industrial Use
Built upon a foundation of strong public-private partnerships, our support of advanced manufacturing process and materials technologies and shared technical infrastructure helps transition scientific innovations into new manufacturing capabilities for the security and well-being of our country and the world. By making direct investments in advanced manufacturing enterprise creation, manufacturing's deep supply chains enable innovation spillovers across more firms and industries than investments in other economic sectors. These spillover benefits extend the reach of the government's assistance far past our initial investments and become reinvestments in the great ideas and promising capabilities that will drive the next generation of manufactured goods for the U.S. economy.
Engaging Federal Agencies in Support of the Advanced Manufacturing Partnership
Advanced manufacturing includes a steady pipeline of emerging technologies and rigorous processes that can be applied across a spectrum of globally competitive U.S. manufacturers and suppliers. For advanced manufacturing to have a greater positive impact on the U.S. economy, it will need the active participation of communities, educators, workers, and business, especially small and medium-sized enterprises, as well as Federal, State, and local governments. Organized around three foundational pillars—enabling innovation, securing the talent pipeline, and improving the business climate—the Advanced Manufacturing Partnership links benefits across agency boundaries and integrates existing public and private resources into a robust national innovation ecosystem.
Encouraging a Culture of Continuous Improvement in Corporate Energy Management.
The most energy-efficient technologies cannot save energy until they are put into use. We make it easier for American companies to manage energy wisely and make energy management part of doing business everyday. With unbiased information and technical assistance, manufacturers can invest in cost-effective energy efficiency opportunities and adopt energy management best practices, including combined heat and power technology. As a result, manufacturers across vast industrial supply chain networks can improve their productivity and reduce the energy costs in their existing facilities.
1 US Census Bureau, US Bureau of Economic Analysis. Value Added by Industry, Gross Output by Industry, Intermediate Inputs by Industry, the Components of Value Added by Industry, and Employment by Industry: http://www.bea.gov/industry/xls/GDPbyInd_VA_NAICS_1998-2011.xls
2 US Census Bureau, US Bureau of Economic Analysis. US International Trade in Goods and Services December 2011: http://www.census.gov/foreign-trade/Press-Release/2011pr/12/ft900.pdf
3 United Nations. National Accounts main Aggregates Database. GDP and its breakdown at current prices in US Dollars: http://unstats.un.org/unsd/snaama/dnltransfer.asp?fID=4
4 U.S. Energy Information Administration. Annual Energy Outlook. Residential, Commercial, & Industrial Demand Sector Data Tables: http://www.eia.gov/forecasts/aeo/er/supplement/sup_rci.xlsx