About Technical Assistance
Savings Opportunities
Energy savings opportunities persist in the manufacturing sector despite the availability of technology solutions. Energy systems used pervasively across the sector hold the potential for significant savings.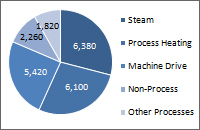 Focused Technical Assistance Activities
As technologies proceed along the development pipeline, most face major hurdles as they attempt to enter commercial markets. Our Technical Assistance program helps lower a range of institutional barriers to prepare innovative, energy-efficient technologies and energy management systems for full commercial deployment. These projects and activities address barriers that are not technical, Technology Readiness Level 9. 
Broad Benefits
Increased energy productivity in manufacturing can stimulate economic activity and job growth throughout the supply chains. To accelerate widespread adoption of energy-efficient technologies and practices, the Advanced Manufacturing Office provides proven tools, training, technical expertise, and other resources.
Our software tools, for example, identify energy-saving opportunities in systems commonly used across the sector—like steam and process heating.
Energy cost savings and associated benefits feed the growth of a corporate culture that promotes continuous improvement in energy efficiency. Our recognition programs and certification platforms highlight corporate achievements that raise the bar:
The Better Buildings, Better Plants Challenge and Program are recognition programs to promote corporate partners who demonstrate their commitment to energy savings and share experiences to foster replication.

Superior Energy Performance provides a platform for measuring, certifying, and recognizing energy savings by facilities that conform to ISO 50001. This platform supports Better Plants partners in meeting their savings goals.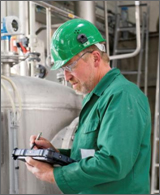 Rigorous applications in diverse regions and manufacturing sectors help hone our resources and prove their utility in identifying savings opportunities.
Developing the Workforce
Our training programs are boosting manufacturing efficiency while helping to develop the workforce needed to serve in our nation's high-value, next-generation manufacturing facilities.
Through a network of Industrial Assessment Centers (IACs), teams of trained engineering students perform energy audits for small- and mid-sized manufacturers. Students gain valuable experience as energy management professionals and provide useful feedback on the real-world application of AMO tools (see box).

Our partnerships with state and local governments, utilities, universities, trade associations, and non-profits are helping to build the expertise and technical capacity to help companies save energy.
Specialized Expertise
Manufacturers look to other specialized AMO resources for information and guidance to increase their energy productivity and capture competitive benefits.