Goals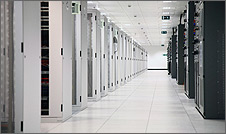 Fact Sheet
PowerPoint Presentations

The Advanced Manufacturing Office (AMO) plays a key role in improving efficiency in data centers and telecommunications central offices by helping to deploy energy management best practices and conducting targeted research and development.
AMO works with data center owners and operators to benchmark data center energy use, identify opportunities to reduce energy, and adopt energy-efficient practices to:
Save billions of kWh per year
Reduce data center energy intensity by 25%
Lead to common implementation of distributed generation systems at data centers
Achieve a data center infrastructure efficiency (DCiE) performance rating factor (information technology to total data center energy use) of 0.70 or more by more than 50% of large enterprise-class data centers.
Funding from the American Recovery and Reinvestment Act of 2009 (ARRA) supports R&D projects across the country that focus on technologies to improve information and communication technology (ICT). Learn about the latest R&D Portfolio. Read the January 6, 2010 press release.
DOE partners with data center equipment suppliers, end users, DOE's National Laboratories, and other organizations.

Printable Version