Combined Heat and Power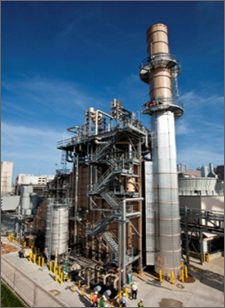 Combined heat and power (CHP)—sometimes called cogeneration—is an integrated set of technologies for the simultaneous, on-site production of electricity and heat. R&D breakthroughs can help U.S. manufacturers introduce advanced technologies and systems to users in the United States and around the world.
CHP and distributed energy systems improve energy efficiency, reduce carbon emissions, optimize fuel flexibility, lower company operating costs, and facilitate market opportunities for the CHP share of U.S. electricity generating capacity.
The CHP R&D project portfolio tests, validates, and deploys innovative CHP and distributed energy for industry and other manufacturing applications. Our projects include advanced reciprocating engine systems (ARES), packaged CHP systems, high-value applications, fuel-flexible CHP, and demonstrations of these technologies. View our current projects:
View our waste energy recovery projects.
Learn more about Industrial Distributed Energy and CHP, including basics, benefits, and
technical assistance activities to help deploy technologies.