National Network for Manufacturing Innovation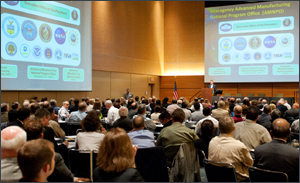 "I'm laying out my plans for a new National Network of Manufacturing Innovation – and these are going to be institutes of manufacturing excellence where some of our most advanced engineering schools and our most innovative manufacturers collaborate on new ideas, new technology, new methods, new processes."
The National Network for Manufacturing Innovation (NNMI) is an interagency initiative to enhance manufacturing innovation across the country. Institutes (up to 15) will be established as hubs of manufacturing excellence that encourage investment in a regional innovation infrastructure and make U.S. manufacturing facilities and enterprises more competitive. Each institute will bring together industry, universities and community colleges, federal agencies, non-profits, and regional and state organizations to accelerate innovation by investing in industrially-relevant manufacturing technologies with broad applications. These institutes will help integrate capabilities, focus expertise, and address cross-cutting challenges in technical areas of manufacturing.
NNMI workshop proceedings are available:
The Advanced Manufacturing Office (AMO)'s NNMI partners include the Department of Defense (DOD), the Department of Commerce, NASA, and the National Science Foundation. Learn more about the NNMI.
The National Additive Manufacturing Innovation Institute (NAMII) will serve as a pilot demonstration of the NNMI concept. The NAMII will provide the innovation infrastructure needed to support new additive manufacturing technology and products in order to become a global center of excellence for additive manufacturing. This pilot institute will bridge the gap between basic research and product development for additive manufacturing, provide shared assets to help companies, particularly small manufacturers, access cutting-edge capabilities and equipment, and create an environment to educate and train workers in advanced additive manufacturing skills. Read the DOE press release and blog to learn more about the NAMII.