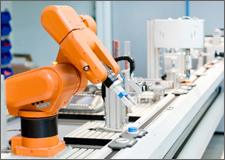 The Advanced Manufacturing Partnership (AMP) is a national effort to bring together industry, universities, and the federal government to make strategic investments in the development of emerging technologies that will create high-quality manufacturing jobs and enhance U.S. global competitiveness. The AMP National Program Office (NPO), which is hosted by the National Institute of Standards and Technology (NIST), coordinates all federal agencies involved in U.S. manufacturing: Department of Energy (DOE), Department of Commerce, Department of Defense, the National Science Foundation, and NASA. The NPO also provides a central link to the growing number of partnerships among manufacturers, universities, state and local governments, and other manufacturing-related organizations.
DOE's Advanced Manufacturing Office (AMO) directly contributes to three key AMP work streams:
Technology Development
Shared Infrastructure and Facilities
Education and Workforce Development
Advanced Manufacturing Drives Economic Growth
The President's Council of Advisors on Science and Technology (PCAST), the Office of Science and Technology Policy, and the National Economic Council support a coherent innovation policy to accelerate progress in advanced manufacturing, generating high-quality American jobs and sustaining U.S. competitiveness in global markets. For more information, review the PCAST report, "Report to the President on Ensuring American Leadership in Advanced Manufacturing

."
Specific activities include the following:
NNMI is a network of institutes devoted to manufacturing excellence, regional innovation infrastructure investment, and boosting the competiveness of U.S. manufacturing facilities and enterprises. The first institute, and pilot, is the National Additive Manufacturing Innovation Institute (NAMII). NAMII will support additive manufacturing technology and products and become a center of excellence for additive manufacturing.
Small businesses and local economies are benefiting from regional innovation clusters that advance manufacturing.