Aluminum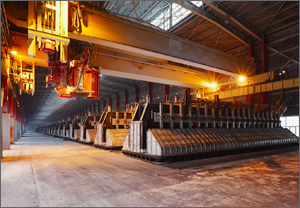 Aluminum Manufacturing
The low density and corrosion resistance of aluminum make it the preferred metal for many manufactured products–from spacecraft components to beverage cans.
The United States is a large importer and exporter of both primary (made from ore) and secondary aluminum (made from recycled or scrap material). In the manufacture of primary aluminum, energy represents about one-third of total production costs.
U.S. aluminum producers recognize that energy efficiency offers a competitive edge in world markets. The aluminum industry has worked with AMO to develop a range of resources that can help to increase energy efficiency and lower carbon emissions.
Analytical Studies & Other Publications