Information Resources
Read reports by national experts that frame the importance of manufacturing.
"Manufacturing creates more value across the economy per dollar spent than any other sector."
"The image of manufacturing as dumb, dirty, dangerous and disappearing is far from accurate. Today, manufacturing is smart, safe, sustainable and surging."
Many resources are available from AMO to help manufacturers improve energy efficiency. Access our free online publications, webcasts, workshop results, databases, and news about the office.
Publications

Search the AMO Publication and Product Library by technology area, category, or key word.
Databases

Explore AMO's databases to find information on program activities, incentives, and recommended projects to save energy in facilities like yours.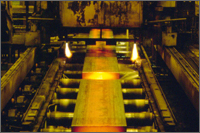 Program News

Subscribe to AMO's News Updates and receive information on project opportunities, office-related news, upcoming solicitations, partner activities, events, tools, and webcasts. Learn about AMO activities in each state.
Webcasts

Listen to AMO's free webcasts on diverse topics, including energy management, analysis software tools, and cutting-edge technologies that can lead to cost and energy savings.
Workshops

Review presentations, video and audio files, and other information related to AMO workshops previously webcast.
Energy Analysis

Gain an understanding of how energy is used in manufacturing.
Industries and Technologies

Learn ways to reduce energy intensity and carbon emissions in specific industries and technology areas.
Related Links

Read reports and studies that describe the importance of U.S. manufacturing in a global economy.
News
Events
Featured Publications