Glass Industry Profile
Glass, a compound of many elements (principally sand, limestone, and soda ash), possesses unique characteristics:
100% recyclability
Versatile manufacturing properties
Chemical durability
Multi-faceted optical properties
Diverse, unique applications
The glass industry has evolved into four distinct segments:
Glass containers, such as bottles and jars
Fiberglass for insulation and structural applications
Flat glass, used largely for windows, auto also windshields, mirrors, and tabletops
Specialty glass, such as tableware, light bulbs, television tubes, fiber optics, and scientific and medical equipment
Economic
In 2007, the glass industry shipped approximately $30 billion in product and spent nearly $1.7 billion on new capital equipment. In addition, the industry spent $2.55 billion on energy for heat and power, representing more than 8% of the value of shipments.
Production
The United States is the second largest producer of glass, behind China, accounting for about 15% of world glass production. Productivity in the U.S. glass industry has been consistently improving, with a 2.5% annual improvement between 1987 and 2006. Between 2002 and 2007, glass production in the United States increased 7.4%.
Geography
The glass industry includes both major corporations and small businesses spread across the nation. Facilities are concentrated in Ohio, Pennsylvania, California, North Carolina, Texas, Indiana, Michigan, New Jersey, New York, and Wisconsin. The map below shows the distribution of U.S. glass plants in 2006.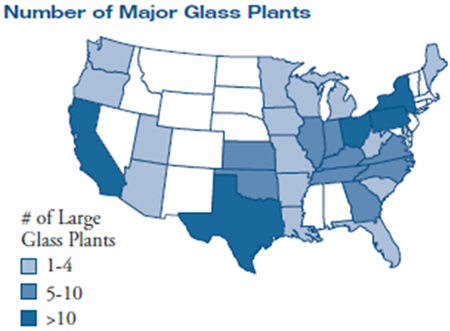 Energy
The glass industry used 343 trillion British thermal units (Btu) in 2006.1 In 2006, average energy costs in the industry represented 14% of direct production costs, though the percentage varied significantly by industry segment. About 80% of this energy is supplied by natural gas, with electricity accounting for the majority of the remaining energy used.
Employment
In 2006, the U.S. glass industry directly employed over 119,000 people in the United States. In 2004, over 80% of glass industry employees were production workers, earning an average of $17.46 per hour.
---