Better Plants Program Partners
DOE recognizes the following companies for their commitment to reducing the energy intensity of their U.S. manufacturing operations by 25% or more within 10 years. These Better Plants Program Partners set ambitious goals, establish energy management plans, and report progress annually to DOE. Click on the arrows below to view Better Plants Program Partner profiles and learn more about their commitment. Additional Partner profiles are under development.
Companies with a blue ribbon have joined the Better Buildings, Better Plants Challenge. These companies have committed to enhanced levels of transparency and innovation and agreed to make a significant near-term investment in energy efficiency at a chosen facility.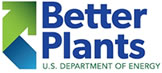 DOE Welcomes the Newest Partners to the Better Plants Program:
Novati Technologies, Inc.
Comau Inc.
Intertape Polymers Group Inc.
Tenaris
JBT Corporation
| Company Name | Industry Type |
| --- | --- |
NAICS 339, Miscellaneous Manufacturing

NAICS 331, Primary Metal Manufacturing

Amcor Rigid Plastics North America

NAICS 326, Plastics and Rubber Products Manufacturing

Amcor Rigid Plastics—a segment of Amcor Limited—manufactures rigid plastic containers for a broad range of beverage and food products, including carbonated soft drinks, water, juices, sports drinks, milk -based beverages, spirits and beer, sauces, dressings, spreads and personal care items, and plastic caps. The company is one of the world's largest producers of polyethylene terephthalate containers.

Date of Pledge: October 2009

Successes: In coordination with the Energy Department, the Northwest Energy Efficiency Alliance and Sustainable Environmental Services, Amcor's Tumwater, Washington, manufacturing facility is participating in the Northwest Superior Energy Performance Demonstration Project.

ArcelorMittal USA

NAICS 331, Primary Metal Manufacturing

ArcelorMittal USA is part of ArcelorMittal, the world's leading steel and mining company, supplying quality steel to the automotive, construction, appliance and packing markets.

Date of Pledge: August 2013

Arkema

NAICS 325, Chemical Manufacturing

AT&T

NAICS 517, Telecommunications

Ball Corporation

NAICS 332, Fabricated Metal Product Manufacturing

Ball Corporation produces metal packaging for beverages, foods, and household products. Some of the products produced include two-piece beverage cans, three-piece food cans, aerosol cans, and Alumi-Tek® bottles.

Date of Pledge: September 2010

Successes: In partnership with the Better Plants Program, Ball Corporation has achieved an 8% energy intensity improvement from its baseline consumption. Ball Corporation has incorporated Energy Management into its overall corporate strategy.

Bentley Prince Street, Inc.

NAICS 314, Textile Products Mills

Bentley Prince Street, Inc. is California's largest carpet design and manufacturing corporation. Based in Los Angeles, the company operates in a LEED-EB® Silver certified carpet mill and produces broadloom, carpet tile and area rug products for commercial interiors found worldwide. Bentley Prince Street, Inc. is committed to sustainable commerce and prides itself in examining, improving, and innovating in every area of the business, including manufacturing processes and product design.

Date of Pledge: June 2010

Successes: In partnership with the Better Plants Program, Bentley Prince Street, Inc. has achieved a 10% energy intensity improvement from its baseline consumption.

In coordination with the Department of Energy, Southern California Edison, and SoCal Gas, Bentley's City of Industry, California, manufacturing facility is participating in the Superior Energy Performance and ISO 50001 Energy Management System Demonstration Project.

BIC Graphic North America

NAICS 323, Printing and Related Support Activities

BIC Graphic is a leading global supplier of a wide range of custom imprinted products to the advertising and promotional products industry.

Date of Pledge: April 2010

Successes: BIC Graphic has utilized the U.S. Department of Energy's Industrial Assessment Centers (IACs) to receive energy audits at all of its U.S. facilities. The company is using a phased approach to implement energy-saving capital improvements that were identified through the IAC audits. The improvements include lighting upgrades; compressed air system controls; new HVAC systems and controls; and building and process insulation. These investments will continue to result in reduced energy consumption for many years to come.

BPM, Inc.

NAICS 322, Paper Manufacturing

BPM Inc. manufactures specialty machine glazed papers and converted materials for packaging and the food service industry. BPM offers full-service printing and the ability to add wax and polymer coating to products. The company also produces uncoated paper that is made from 100% post-consumer waste-recycled materials.

Date of Pledge: September 2009

Successes: In partnership with the Better Plants Program, BPM Inc. has achieved a 26.6% energy intensity improvement from its baseline consumption.

Additionally, BPM Inc.'s uncoated paper helps reduce the company's energy intensity, in addition to reducing the amount of water used and energy consumed during production. The product also reduces the amount of greenhouse gases emitted into the atmosphere and decreases landfill space.

Bradken

NAICS 331, Primary Metal Manufacturing

Bradken manufactures iron and steel products that are used to create products for a variety of industries, including mining, rail, transport, oil and gas, sugar, and power and cement. Some of these products include ground engaging tools, crawler systems, mill liners, castings, freight wagons, and numerous other engineered products.

Date of Pledge: June 2010

Successes: In partnership with the Better Plants Program, Bradken has achieved a 13.9% energy intensity improvement from its baseline consumption.

Bridgestone Americas, Inc. 

NAICS 326, Plastics and Rubber Products Manufacturing

Bridgestone Americas, Inc. is one of the leading producers and sellers of tires for passenger vehicles; commercial trucks; motorcycles; buses; and construction, mining, and agricultural vehicles. The company also manufactures a variety of other rubber products, including building products, synthetic polymers, latex, fibers and textiles, and industrial products.

Date of Pledge: December 2009

Successes: In partnership with the Better Plants Program, Bridgestone has achieved an 5.45%, 18.7%, and 5.9% energy intensity improvement from its baseline consumption at the company's Tire Operations in Wilson, NC; LaVergne, TN; and Warren County, TN; respectively.

In coordination with the Energy Department and North Carolina State University, Bridgestone's Wilson, North Carolina, manufacturing facility is participating in the Southeast Superior Energy Performance Demonstration Project.

NAICS 333, Machinery Manufacturing

Brown Printing Company

NAICS 323, Printing and Related Support Activities

Brown Printing Company provides publishers, retailers, and catalogers with printing, distribution, and integrated media solutions. The company's three modern production facilities are designed to facilitate projects from preparation to distribution. Some of Brown Printing Company's products include, magazine printing, catalog printing, digital edition, and 2D barcodes.

Date of Pledge: August 2010

Successes: In partnership with the Better Plants Program, Brown Printing Company has achieved a 3.8% energy intensity improvement from its baseline consumption.

Brown Printing Company has an active energy program, which entails a full-time energy/environmental manager located at each of its three plants. The company is also a participant in the U.S. EPA's ENERGY STAR® program and was a 2012 ENERGY STAR Partner of the Year. Brown Printing has conducted two comprehensive energy audits involving two of its manufacturing facilities. The company has worked closely with its utility suppliers, XCEL Energy and CenterPoint Energy, in implementing projects at the company's Waseca, Minnesota facility.

Buck Company

NAICS 331, Primary Metal Manufacturing

Buck Company, an industry leader in foundry casting technology, manufactures medium- and long-run casting orders in a variety of ferrous and non-ferrous metals. The foundry has adopted continuous improvement processes to further employee training and is ISO 9001:2008-certified.

Date of Pledge: October 2010

Successes: Buck Company started incorporating energy-savings projects into the day-to-day operations of its facility in 2010. Some of these projects include improving ventilation in the facility's main production area and increasing the use of return air from the dust collector to reduce the building's heating load. The substitution of clear rooftop materials in place of electric lighting capitalizes on the availability of natural light. Light sensors in offices and low-traffic areas reduce wasted energy consumption during unoccupied periods. The company is also installing covered ladle heaters to further reduce energy consumption. Additionally, Buck Company participates in multiple electric grid-balancing and stability programs with PJM Interconnection through a Curtailment Service Provider.

Buckeye Technologies Inc.

NAICS 322, Paper Manufacturing

Buckeye Technologies Inc. manufactures specialty cellulose fibers and fluff pulp, products that are made from renewable wood and cotton resources. Specialty cellulose products are used to formulate thicker, more luxuriant textured household products such as shampoo, dishwashing liquid and toothpaste. Customized fibers optimize permeability and durability in products like oil filters, and fluff pulp provides absorbency in disposable diapers and similar products.

Date of Pledge: May 2010

Successes: In partnership with the Better Plants Program, Buckeye Technologies Inc.'s Perry, Florida facility secures 85% of its total energy needs from renewable biomass and has reduced purchased electricity use by over 60% since the pledge date. Work continues on improving biofuels use and reducing purchased electricity requirements.

CalPortland Company

NAICS 327, Nonmetallic Mineral Product Manufacturing

CalPortland Company provides building materials and construction solutions to the western United States and Canada. CalPortland specializes in cement production and distribution, ready-mixed concrete, asphalt, aggregates, and other building materials. CalPortland also provides construction services, assisting mainly in the construction of major highway overlays and roads.

Date of Pledge: May 2010

Successes: In partnership with the Better Plants Program, CalPortland has achieved a 7.7% energy intensity improvement from its baseline consumption.

More Partner Highlights:

Cargill Regional Beef of Milwaukee

NAICS 311, Food Manufacturing

Carlton Forge Works

NAICS 332, Fabricated Metal Product Manufacturing

Carlton Forge Works specializes in aerospace manufacturing and the production of seamless rolled rings and closed die forgings. Carlton Forge Works uses numerous materials for its products, including nickel, titanium, aluminum, cobalt, zirconium, niobium, and iron. The company also forges a number of exotic, high-temperature metals with special properties.

Date of Pledge: May 2010

Successes: In partnership with the Better Plants Program, Carlton Forge Works has achieved a 5.4% energy intensity improvement from its baseline consumption. The company has tapped into incentives from Southern California Edison to convert the lighting in its warehouse from high intensity discharge lighting to induction lighting, install demand response power meters on machining equipment, and install a variable frequency drive on a 350 horsepower air compressor.

Carus Chemical Company

NAICS 325, Chemical Manufacturing

Carus Chemical Company—a division of the Carus Corporation—manufactures products to help solve its consumers' environmental concerns. These products include potassium, sodium, catalysts, phosphates, and oxidants, and are used in drinking water, wastewater, on soil and water remediation, air purification, and in industrial markets.

Date of Pledge: February 2011

Successes: In partnership with the Better Plants Program, Carus Chemical Company has achieved a 19.3% energy intensity improvement from its baseline consumption.

In April 2012, the American Chemistry Council honored 19 of its members, including Carus Chemical Company, at the 21st Annual Responsible Care Conference and Exposition for implementing energy efficiency improvements in 2011. The company's LaSalle, Illinois, manufacturing facility received recognition for its ongoing energy efficiency efforts in partnership with the Department of Energy.

Celanese Corporation

NAICS 325, Chemical Manufacturing

Chippewa Valley Ethanol Company

NAICS 325, Chemical Manufacturing

Chippewa Valley Ethanol Company (CVEC) produces corn ethanol through thermal energy. CVEC's ethanol product is mixed with unleaded gasoline to make fuel ethanol and E85. The ethanol-blended fuels help reduce greenhouse gas emissions. The ethanol is also used in spirits, cosmetic, and health products.

Date of Pledge: May 2010

Successes: In partnership with the Better Plants Program, CVEC has achieved a 12% energy intensity improvement from its baseline consumption.

Citrus World, Inc.

NAICS 311, Food Manufacturing

Date of Pledge: August 2010

Commercial Metals Company

NAICS 331, Primary Metal Manufacturing

Comau Inc. 

NAICS 333, Machinery Manufacturing

Cree, Inc.

NAICS 334, Computer and Electronic Product Manufacturing

NAICS 333, Other Engine Equipment Manufacturing

Dahlgren & Company, Inc.

NAICS 311, Food Manufacturing

Daikin McQuay

NAICS 333, Industrial Machinery

Daikin McQuay delivers engineered, flexible solutions for commercial, industrial and institutional HVAC requirements with reliable products, knowledgeable applications expertise and responsive support.

Date of Pledge: February 2012

Successes: In partnership with the Better Plants Program, Daikin McQuay is driven to meet programmatic goals through measuring and monitoring of progress towards minimizing the company's environmental impact and continually striving for excellence in all aspects of the environment.

Darigold

NAICS 311, Food Manufacturing

Darigold is the wholly owned subsidiary of the Northwest Dairy Association, the fourth largest dairy cooperative in the United States, with 12 processing plants and 540 member farms throughout the Northwest. Along with its own branded products, Darigold produces a wide array of dairy products for customers in wholesale, retail, grocery, foodservice and ingredients sectors. Darigold's product line includes milk, butter, cheese, sour cream, whey products, yogurt, and a variety of dairy-based ingredient products.

Date of Pledge: January 2012

Successes: In partnership with the Better Plants Program, Darigold participates in U.S. Department of Energy trainings and Industrial Assessment Center energy assessments to help identify key areas for energy intensity improvement.

Davisco Foods International, Inc.

NAICS 311, Food Manufacturing

Davisco Foods International, Inc. (Davisco) is a cheese and food ingredient company. Davisco is a leader in the dairy industry. With 370 million pounds of cheese produced each year, the company is one of the largest suppliers to Kraft foods. Davisco strives to make advancements in food technology through producing innovative proteins for health and nutrition. Davisco has become a leader in the research and production of whey protein isolate, a product commonly found in yogurt, sports drinks, and low-fat salad dressings.

Date of Pledge: April 2010

Successes: In partnership with the Better Plants Program, Davisco has achieved a 15.8% energy intensity improvement from its baseline consumption.

Denison Industries

NAICS 331, Primary Metal Manufacturing

Didion Milling

NAICS 424, Nondurable Goods Merchant Wholesalers

Didion Milling is an agricultural processing business that produces food, feed and fuel products from corn. The corn is fractionated in the dry corn mill facility and separated into pieces best suited for food products and for ethanol production. Didion Milling is unique in its ability to produce ethanol fuel and distillers grains as well as and food products such as corn meal, grits, standard and whole grain corn flours, corn bran, corn oil products, and corn-soy blend.

Date of Pledge: September 2009

Successes: In coordination with the U.S. Department of Energy and Focus on Energy, Didion Milling's Cambria, Wisconsin, manufacturing facility is participating in the Superior Energy Performance Demonstration Project.

DSM North America

NAICS 325, Chemical Manufacturing

Royal DSM is a global science-based company active in health, nutrition and materials. By connecting its unique competences in Life Sciences and Materials Sciences, DSM is driving economic prosperity, environmental progress and social advances to create sustainable value for all stakeholders. DSM delivers innovative solutions that nourish, protect and improve performance in global markets such as food and dietary supplements, personal care, feed, pharmaceuticals, medical devices, automotive, paints, electrical and electronics, life protection, alternative energy and bio-based materials.

Date of Pledge: January 2011

Successes: In partnership with the Better Plants Program, DSM North America has achieved a 7.4% energy intensity improvement from its baseline consumption.

Duke Manufacturing Company

NAICS 333, Industrial Machinery

Earth2O

NAICS 312, Beverage Manufacturing

Eastman Chemical Company

NAICS 325, Chemical Manufacturing

Eastman Chemical Company is a global specialty chemicals company that produces a broad range of advanced materials, additives and functional products, specialty chemicals, and fibers. As a world leader in the diverse markets it serves, Eastman is focused on delivering innovative and technology-based solutions while maintaining its commitment to safety and sustainability. Serving customers in approximately 100 countries, Eastman is based in Kingsport, Tennessee, and—with the completion of the Solutia acquisition—employs approximately 13,500 people worldwide.

Date of Pledge: May 2010

Successes: Eastman Chemical Company is involved in several major energy efficiency initiatives, including lighting, steam leak repair, and energy surveys of its production processes. Each year, the company earmarks funds for energy-savings projects. In 2012, the American Chemistry Council honored Eastman with 8 energy efficiency awards, including an Exceptional Merit Award for Eastman's energy program. This is the 19th straight year that Eastman has been recognized by the American Chemistry Council.

Eaton Corporation

NAICS 335, Electrical Equipment, Appliance, and Component Manufacturing

Eck Industries

NAICS 331, Primary Metal Manufacturing

Eck Industries specializes in premium aluminum castings and is an ISO 9001:2008 registered company. Eck Industries utilizes a wide range of aluminum alloys to produce a variety of castings, such as aircraft cylinder heads, marine parts, military equipment, and specialty car parts.

Date of Pledge: April 2010

Successes: In partnership with the Better Plants Program, Eck Industries has achieved a 14.2% energy intensity improvement from its baseline consumption.

Eck Industries, with help from Wisconsin's Focus on Energy, pursued a lighting retrofit project that reduced the energy intensity of its facility's lighting by 46%. The project payback period was 8 months, and Eck Industries is experiencing annual savings greater than $55,000.

In the spring of 2010, Eck Industries formed an energy team to incorporate energy-saving practices into the company's operations and make equipment upgrades at its facility.

More Partner Highlights:

Flambeau River Papers

NAICS 322, Paper Manufacturing

Flambeau River Papers manufactures a variety of paper products, including printing, cover stock, tag, reply card, index, freesheet, envelope, and laser bond paper. The company is a leading producer of lignin in North America.

Date of Pledge: September 2009

Successes: In partnership with the Better Plants Program, Flambeau River Papers has achieved a 16% energy intensity improvement from its baseline consumption.

Flambeau River Papers' energy management system encourages all employees to offer input on improving the company's energy use, which is incorporated into a prioritization spreadsheet. To date, Flambeau River Papers has invested more than $15 million in energy-improvement projects. These projects have reduced the company's annual energy costs by 10%, led to more than $10 million in savings, and increased production by 11%. Projects have included a replacement of line shaft steam turbines with electric drives and a fine bubble diffuser to decrease electricity use for wastewater treatment.

More Partner Highlights:

Flying Foods Group

NAICS 722, Food Services and Drinking Places

NAICS 336, Transportation Equipment Manufacturing

General Aluminum Mfg. Company

NAICS 331, Primary Metal Manufacturing

General Aluminum Mfg. Company is a full service aluminum die casting supplier to a variety of industries including the automotive, agricultural, industrial, and appliance industries. The company operates as a business unit of Park Ohio Holdings Corporation, a publicly traded company. The company's facilities are certified to one or more of the following; ISO/TS 16949:2009, ISO 14001:2004, and ISO 9001:2008.

Date of Pledge: July 2012

General Dynamics Ordnance and Tactical Systems

NAICS 336, Transportation Equipment Manufacturing

NAICS 339, Miscellaneous Manufacturing

General Motors

NAICS 336, Transportation Equipment Manufacturing

General Motors (GM) is a leader in the automotive industry with operations in more than 120 countries worldwide. GM designs, manufactures, and markets cars, crossovers, trucks, and automobile parts. In North America, GM manufacturers and sells vehicles under the brand names Buick, Cadillac, Chevrolet, and GMC.

Date of Pledge: July 2010

Successes: In partnership with the Better Plants Program, GM has achieved a 13% energy intensity improvement from its baseline consumption.

More Partner Highlights:

Golden Renewable Energy, LLC

NAICS 454, Alternative Fuels, Direct Selling

Goodyear Tire and Rubber Company

NAICS 326, Plastics and Rubber Products Manufacturing

Goodyear Tire and Rubber Company is one of the world's leading producers of tires. Goodyear develops, markets, and sells the tires it produces. Goodyear's tires are used on passenger vehicles, commercial vehicles, racing vehicles, and airplanes. The company also manufactures rubber-related chemicals for various applications.

Date of Pledge: February 2010

Successes: In partnership with the Better Plants Program, Goodyear Tire and Rubber Company has achieved a 2.07% energy intensity improvement from its baseline consumption.

More Partner Highlights:

Grand River Printing

NAICS 323, Printing and Related Support Activities

Graphic Packaging

NAICS 322, Paper Manufacturing

Graphic Packaging designs, manufactures, and builds packaging for different customers and their various needs. Materials used by the company are manufactured using sustainable material. Graphic Packaging produces beverage packaging, consumer packaging, bags, cartons, and barrier packaging.

Date of Pledge: April 2010

Successes: In partnership with the Better Plants Program, Graphic Packaging has achieved an 18.3% energy intensity improvement from its baseline consumption.

NAICS 333, Industrial Machinery

Harley-Davidson Motor Company

NAICS 336, Transportation Equipment Manufacturing

Harrison Steel Castings Co.

NAICS 331, Primary Metal Manufacturing

Harrison Steel Casting Co. is a leader in the production of carbon and low/medium alloy steel castings. The company's products are used in the agriculture, heavy equipment, energy, military, mining, and oil and gas industries.

Date of Pledge: June 2010

Successes: In partnership with the Better Plants Program, Harrison Steel Casting Co. has achieved a 7.3% energy intensity improvement from its baseline consumption.

More Partner Highlights:

Haynes International

NAICS 331, Primary Metal Manufacturing

HNI Corporation

NAICS 337, Furniture and Related Product Manufacturing

HNI Corporation is the second-largest office furniture manufacturer in the world, and the nation's leading manufacturer and marketer of gas- and wood-burning fireplaces. The company represents a family of leading brands and sells its office furniture products under the HON, Allsteel, Maxon, Gunlocke, Paoli, HBF, Artco Bell, Midwest Folding Products, LSI Corporation of America, Basyx, and Lamex brand names. In 2008, HNI Corporation was recognized by Fortune Magazine as one of America's Most Admired Companies in the furniture industry.

Date of Pledge: March 2010

Successes: In partnership with the Better Plants Program, HNI Corporation has trained members, used the software tools provided, and completed several co-sponsored assessments. In total, HNI Corporation has completed over 25 assessments mainly focused on lighting, compressed air, dust collection, and a few in process heat. As a result of these assessments, HNI Corporation has implemented three compressed air systems automation projects, four complete lighting retrofits, and one process heating improvement project. There are several other projects in various stages from conception to implementation.

In coordination with the Energy Department and the University of Illinois at Chicago, the company's Allsteel Muscatine, Iowa, manufacturing facility participated in the Midwest Superior Energy Performance (SEP) Demonstration Project. As a result, Allsteel is ISO 50001 certified and also certified SEP Gold.

Holcim (US) Inc.

NAICS 327, Nonmetallic Mineral Product Manufacturing

Holcim (US) Inc. is one of the nation's leading manufacturers and suppliers of cement and mineral components. The company has approximately 1,800 employees and operates 12 manufacturing plants and more than 50 distribution facilities in the United States. It offers Portland cements, and fly ash and slag cement products. Holcim (US) Inc. products are used in commercial and residential applications, such as blocks, insulated concrete forms (ICF), mass concrete, pavers, paving, pipe, precast, soil solidification, and wells.

Date of Pledge: September 2010

Successes: In coordination with the Energy Department and the Texas Industries of the Future, the company's Midlothian, Texas, manufacturing facility is participating in the Superior Energy Performance Demonstration Project.

Huntsman Corporation

NAICS 325, Chemical Manufacturing

Ingersoll Rand

NAICS 332, Fabricated Metal Product Manufacturing

Intel

NAICS 334, Computer and Electronic Product Manufacturing

International Paper

NAICS 322, Paper Manufacturing

International Paper is a global leader in the packaging and paper industry and supplies a wide range of products that people rely on every day. Our businesses include uncoated papers, pulp, and industrial and consumer packaging, complemented by xpedx, our North American distribution business. Headquartered in Memphis, Tenn., the company employs approximately 70,000 people and is strategically located in more than 24 countries serving customers worldwide. International Paper net sales for 2012 were $28 billion.

Date of Pledge: December 2012

Successes: Since 2010, International Paper has invested over $180 million toward energy projects as improvements in energy efficiency reduce the amount of energy we consume to create our products, resulting in less resource consumption and fewer emissions. In 2012, International Paper was one of 20 organizations, and the only forest products company, to receive the Environmental Protection Agency's inaugural Climate Leadership Award for our management and reduction of GHG emissions.

Intertape Polymer Group

NAICS 322, Paper Manufacturing

JBT Corporation

NAICS 333, Industrial Machinery

JBT Corporation is a global technology solutions provider to the food processing and air transportation industries. Through the JBT FoodTech and JBT AeroTech segments, the company designs, manufactures, tests and services technically sophisticated systems and products.

Date of Pledge: August 2013

Johnson & Johnson

NAICS 325, Pharmaceuticals

Johnson & Johnson, through its family of companies, employs approximately 129,000 people globally and is engaged in the manufacture and sale of a broad range of products in the health care field throughout the world. The company operates in three segments: consumer, pharmaceutical and medical devices and diagnostics and has more than 250 operating companies in 60 countries.

Date of Pledge: September 2010

Successes: In partnership with the Better Plants Program, Johnson & Johnson has achieved a 2.9% energy intensity improvement from its baseline consumption.

NAICS 336, Transportation Equipment Manufacturing

NAICS 311, Food Manufacturing

Kenworth Truck Company

NAICS 336, Transportation Equipment Manufacturing

Kingspan Insulated Panels, Inc.

NAICS 332, Other Fabricated Metal Product Manufacturing

Land O' Lakes

NAICS 311, Food Manufacturing

NAICS 335, Electrical Equipment, Appliance, and Component Manufacturing

Lennox International

NAICS 333, Machinery Manufacturing

Lockheed Martin

NAICS 336, Transportation Equipment Manufacturing

Lufkin Industries, Inc.

NAICS 333, Machinery Manufacturing

Manitowoc Grey Iron Foundry

NAICS 331, Primary Metal Manufacturing

Manitowoc Grey Iron Foundry is a privately held company that manufactures grey iron and ductile iron castings for the construction, mining, agricultural, and off-road automotive markets.

Date of Pledge: September 2009

Successes: In partnership with the Better Plants Program, Manitowoc Grey Iron Foundry has achieved a 7.3% energy intensity improvement from its baseline consumption.

Mannington Mills

NAICS 339, Miscellaneous Manufacturing

Mannington Mills is a leading manufacturer of residential and commercial flooring products. Its products include resilient, laminate, hardwood, and porcelain tiles, as well as commercial carpet floor coverings, rubber flooring, and composite flooring products. The company serves the healthcare, education, corporate, and retail sectors. Burke Industries, a subsidiary of Mannington Mills, manufactures resilient floor tiles, stair systems, wall base, moldings, and adhesives. In 2012, Mannington Mills acquired Amtico, a manufacturer of premium resilient flooring.

Date of Pledge: January 2010

Successes: In partnership with the Better Plants Program, Mannington Mills has achieved an 11.2% energy intensity improvement from its baseline consumption.

More Partner Highlights:

Marquis Energy, LLC

NAICS 325, Chemical Manufacturing

Marquis Energy, LLC is a corn-based ethanol producer located in Hennepin, Illinois. Founded in 2007, the company produces approximately 140 million gallons of ethanol each year for domestic and international markets. Much of the feed value of the corn used at the plant is returned to the livestock industry as dried distiller's grains. The company produces approximately 380,000 tons of these grains each year, along with five million gallons of corn oil.

Date of Pledge: January 2012

McCain Foods USA

NAICS 311, Food Manufacturing

McCain Foods USA is a leading supplier of frozen potato and snack food products for the foodservice markets, which include major national food chains such as McDonald's, Burger King, Wendy's, Arby's, Wal-Mart, and many others across the United States. The company also supplies retail grocery chains with both McCain Foods USA and private label potato products. Popular McCain Foods USA frozen snack foods are sold under the Moore's, Anchor and Brew City brands, and the Ellio's frozen pizza brand.

Date of Pledge: April 2010

Successes: In partnership with the Better Plants Program, McCain Foods USA has achieved a 17.1% energy intensity improvement from its baseline consumption.

MeadWestvaco Specialty Chemicals

NAICS 325, Chemical Manufacturing

MeadWestvaco Specialty Chemicals—a business segment of MeadWestvaco Corporation—is engaged in the manufacture, marketing, and distribution of specialty chemicals that are derived from the sap of the pine tree and saw dust. Crude Tall Oil and Lignin are co-products derived during the pulping process, which are used to manufacture the company's products including: pine chemicals, asphalt additives, adhesive resins, coatings, ink resins, and dispersants. Sawdust is the raw material for MeadWestvaco's activated carbon products for the auto industry, as well as for use in water and food purification.

Date of Pledge: July 2010

Successes: In partnership with the Better Plants Program, MeadWestvaco Specialty Chemicals has achieved an 18.5% energy intensity improvement from its baseline consumption. Projects that have contributed to this improvement include replacing an aging solid fuel boiler with a high-efficiency natural gas boiler, investing in energy recovery, and capturing waste heat from a tall oil refinery.

MedImmune, LLC

NAICS 325, Biological Product Manufacturing

MedImmune, a wholly owned subsidy of AstraZeneca, is one of the world's leading biotechnology companies. The company manufactures and markets formulations for use in immunization programs, including live virus vaccines. MedImmune is primarily focused on infection, oncology, respiratory disease and inflammation, cardiovascular/gastrointestinal disease, and neuroscience.

Date of Pledge: October 2010

Successes: In partnership with the Better Plants Program, MedImmune has achieved a 19.2% energy intensity improvement from its baseline consumption.

In coordination with the Energy Department and the Maryland Energy Administration, MedImmune's Corporate Headquarters, located in Gaithersburg, Maryland, is participating in the Superior Energy Performance Demonstration Project. MedImmune has designed and built a large R&D lab expansion that came online in late 2011. This building was awarded a LEED Gold certification for New Construction, which equates to 10% less energy per square foot than the previous office and lab space.

Metal Industries, Inc.

NAICS 332, Fabricated Metal Product Manufacturing

Metal Industries, Inc. offers a complete line of quality air distribution products and air terminal units. The company is dedicated to providing the highest level of service in the heating, ventilation, and air conditioning industry. Since its inception in 1947, Metal Industries, Inc. has grown to become a leading worldwide supplier of commercial air distribution products. The company's products are sold under the USAIRE, METALAIRE, NCA, and PREFCO brands throughout the United States and around the world.

Date of Pledge: September 2010

Successes: In partnership with the Better Plants Program, Metal Industries, Inc. has achieved a 28.4% energy intensity improvement from its baseline consumption.

Metal Industries, Inc. completed a lighting retrofit project in its Bushnell, Florida, manufacturing facility that reduced electric costs by 30%. Additionally, the company began use of a chemical pretreatment process that eliminated the amount of waste and energy required in its paint system.

Mohawk Industries

NAICS 339, Miscellaneous Manufacturing

Navistar, Inc.

NAICS 336, Transportation Equipment Manufacturing

Navistar, Inc. produces International® brand commercial and military trucks; MaxxForce® brand diesel engines; IC Bus™ brand school and commercial buses; Monaco® RV brands of recreational vehicles; and Workhorse® brand chassis for motor homes. The company also provides truck and diesel engine service parts. As a member of the U.S. Department of Energy's Better Buildings, Better Plants Program, Navistar, Inc. is proud to take its place as a leader in industrial energy efficiency and support the nation's drive toward a sustainable, clean-energy future.

Date of Pledge: January 2012

Successes: In partnership with the Better Plants Program, Navistar, Inc. utilized the U.S. Department of Energy's Energy Performance Tracking Tool (EnPI 2.0) to develop energy intensities to accurately track its facilities' energy conservation efforts and to establish meaningful energy intensity goals. In January 2012, the company started including energy intensity improvement data in its monthly Environmental and Energy Scorecard reports to senior management.

In 2008, Navistar Inc.'s senior management approved a $2 million Energy Fund. In 2011, another $3 million was dedicated to support energy capital projects. The approval of Navistar, Inc.'s Energy Fund is a key component of the company's energy management strategy to significantly reduce its energy costs, as well as the environmental impacts resulting from its activities, services, and products.

Through the Better Plants Program, Navistar Inc. has benefitted from significant training and benchmarking opportunities with subject matter experts in industrial equipment and energy conservation. Specifically, Navistar Inc. was invited to participate in the In-Plant Training hosted by CalPortland in Tucson, Arizona, that focused on compressed air. The company also attended a Better Plants Program Workshop on benchmarking.

Neenah Foundry

NAICS 331, Primary Metal Manufacturing

Neenah Foundry—a subsidiary of Neenah Enterprises, Inc.—produces municipal and industrial iron castings. The company's products include manhole frames, lids and grates, trench castings, and decorative tree grates.

Date of Pledge: September 2009

Successes: In partnership with the Better Plants Program, Neenah Foundry has achieved a 5.6% energy intensity improvement from its baseline consumption.

In coordination with the Energy Department and Focus on Energy, the company's Neenah, Wisconsin, manufacturing facility is participating in the Midwest Superior Energy Performance Demonstration Project.

NAICS 336, Transportation Equipment Manufacturing

Novati Technologies, Inc.

NAICS 334, Computer and Electronic Product Manufacturing

OMNOVA Solutions

NAICS 325, Chemical Manufacturing

OMNOVA Solutions designs, develops, produces, and markets emulsion polymers, specialty chemicals, and decorative and functional surfaces for a variety of commercial, industrial, and residential end uses. The company's innovative emulsion polymers and specialty chemicals add distinctive performance features to products, such as coated paper, carpeting, disposable and durable nonwovens, tapes and adhesives, floor polishes and sealers, industrial coatings and textiles. In addition, the company produces surfacing materials such as upholstery fabrics and furniture laminates.

Date of Pledge: June 2010

Successes: In partnership with the Better Plants Program, OMNOVA Solutions has achieved a 5.8% energy intensity improvement from its baseline consumption.

OSRAM SYLVANIA

NAICS 335, Electrical Equipment, Appliance, and Component Manufacturing

OSRAM SYLVANIA is a leader in lighting solutions and services, specializing in innovative design and energy saving technology. The company sells products for homes, businesses and vehicles primarily under the SYLVANIA brand name, and also under the OSRAM brand. Headquartered in Danvers, Massachusetts, OSRAM SYLVANIA is the North American operation of OSRAM AG, a wholly owned subsidiary of Siemens AG.

Date of Pledge: November 2009

Successes: In partnership with the Better Plants Program, OSRAM SYLVANIA has achieved a 3.5% energy intensity improvement from its baseline consumption.

SYLVANIA formed a company-wide "Green Team," consisting of representatives from every plant to identify internal practices that save energy and waste. It then works to replicate these best practices across the company. All SYLVANIA plants are required to implement Green Team-established baseline and best practices, which saves the company hundreds of thousands of dollars annually and significantly reduces waste and energy consumption.

Owens Corning

NAICS 327, Nonmetallic Mineral Product Manufacturing

Owens Corning is a leading global producer of residential and commercial building materials (primarily insulation and roofing shingles), glass-fiber reinforcements, and engineered materials for composite systems. A Fortune® 500 company for 58 consecutive years, the company is committed to driving sustainability by delivering solutions, transforming markets, and enhancing lives. Celebrating its 75th Anniversary in 2013, Owens Corning has earned its reputation as a market-leading innovator of glass-fiber technology by consistently providing new solutions that deliver a strong combination of quality and value to its customers across the world.

Date of Pledge: September 2009

Successes: In partnership with the Better Plants Program, Owens Corning has achieved a 3.1% energy intensity improvement from its baseline consumption.

In coordination with the Energy Department and the University of Texas at Austin, Owens Corning's Waxahachie, Texas, manufacturing facility participated in the Superior Energy Performance Demonstration Project. Owens Corning was one of three companies to successfully complete the certification program.

More Partner Highlights:

PaperWorks Industries, Inc.

NAICS 322, Paper Manufacturing

Founded in 2008, PaperWorks Industries, Inc. is a leading integrated full-service packaging provider headquartered in Philadelphia, Pennsylvania. The company has two recycled paperboard mills, five rapid-turn sheeting operations, and nine package converting operations located across North America. PaperWorks Industries, Inc. provides sustainable paper and flexible packaging for the consumer goods, food, and pharmaceutical industries. The company's unique business model permits for the provision of integrated packaging services to many Fortune 1000 companies, as well as smaller firms seeking short runs and rapid turnover.

Date of Pledge: August 2012

Patrick Cudahy

NAICS 311, Food Manufacturing

Patrick Cudahy is a segment of the John Morrell Food Group, which is a subsidiary of Smithfield Foods. The company manufactures packaged meat products, including bacon, sausage, pre-sliced lunch meat, and deli products for various food service outlets. Patrick Cudahy is among the top three producers of pre-cooked bacon in the United States.

Date of Pledge: April 2010

Successes: In partnership with the Better Plants Program, Patrick Cudahy has achieved a 15.2% energy intensity improvement from its baseline consumption.

Patriot Foundry & Castings

NAICS 331, Primary Metal Manufacturing

Patriot Foundry & Castings is an industry-leading nonferrous company specializing in top-quality sand castings of bronze, aluminum, and zinc-based alloys. The company manufactures products for a wide range of industries, including aerospace, automotive, biotech, defense, electronics, firefighting, imaging, and medical. In addition to castings, Patriot Foundry & Castings also provides pattern design/production, heat treating, annealing, machining, powder coating, painting, anodizing, and assembling for completely finished parts. Patriot Foundry & Castings is ISO 9001:2008 certified and is a woman-owned small business.

Date of Pledge: July 2010

Successes: In partnership with the Better Plants Program, Patriot Foundry & Castings has achieved a 9% energy intensity improvement from its baseline consumption.

PepsiCo

NAICS 312, Beverage Manufacturing

PPG Industries

NAICS 325, Chemical Manufacturing

Procter & Gamble

NAICS 325, Chemical Manufacturing

P&G serves approximately 4.4 billion people around the world with its brands. The Company has one of the strongest portfolios of trusted, quality, leadership brands, including Pampers®, Tide®, Ariel®, Always®, Whisper®, Pantene®, Mach3®, Bounty®, Dawn®, Fairy®, Gain®, Charmin®, Downy®, Lenor®, Iams®, Crest®, Oral-B®, Duracell®, Olay®, Head & Shoulders®, Wella®, Gillette®, Braun®, Fusion®, Ace®, Febreze®, Ambi Pur®, SK-II®, and Vicks®. The P&G community includes operations in about 80 countries worldwide.

Date of Pledge: April 2010

Successes: In partnership with the Better Plants Program, P&G has achieved a 31.8% energy intensity improvement from its baseline consumption.

Quad/Graphics, Inc.

NAICS 323, Publishing, Printing

Raytheon Company

NAICS 334, Computer and Electronic Product Manufacturing

Raytheon Company is a technology and innovation leader specializing in defense, homeland security and other government markets throughout the world. With a history of innovation spanning more than 90 years, Raytheon Company provides state-of-the-art electronics, mission systems integration and other capabilities in the areas of sensing; effects; and command, control, communications and intelligence systems, as well as a broad range of mission support services.

Date of Pledge: May 2010

Successes: In partnership with the Better Plants Program, Raytheon Company has achieved a 9.9% energy intensity improvement from its baseline consumption.

More Partner Highlights:

Revstone Castings Fairfield

NAICS 331, Primary Metal Manufacturing

Roche Diagnostics

NAICS 325, Chemical Manufacturing

Roche Diagnostics is a global leader in healthcare, producing a broad portfolio of tools that help healthcare providers in the prevention, diagnosis and management of diseases like HPV, HIV, hepatitis, and diabetes in addition to other medical conditions, such as fertility and blood coagulation. Roche is the world's largest biotech company in addition to being the world leader in in-vitro diagnostics, tissue-based cancer diagnostics and a pioneer in diabetes management.

Date of Pledge: March 2010

Successes: In partnership with the Better Plants Program, Roche Diagnostics has achieved a 14.9% energy intensity improvement from its baseline consumption.

RockTenn - Harrison

NAICS 322, Paper Manufacturing

NAICS 327, Nonmetallic Mineral Product Manufacturing

NAICS 335, Electrical Equipment, Appliance, and Component Manufacturing

Serious Materials

NAICS 327, Nonmetallic Mineral Product Manufacturing

Shaw Industries Group, Inc.

NAICS 339, Miscellaneous Manufacturing

Shaw Industries is one of the world's largest flooring manufacturers producing soft flooring (carpet, rugs, synthetic turf) and hard flooring (hardwood and laminate). The company's products reach customers in a wide range of industries, including health care, education, corporate office, government, and retail.

Date of Pledge: December 2009

Successes: In partnership with the Better Plants Program, Shaw Industries has achieved a 14.2% energy intensity improvement from its baseline consumption, using the Energy Department's baselining tool for tracking source energy consumption.

More Partner Highlights:

Solberg Manufacturing, Inc.

NAICS 333, Industrial Machinery

Solberg Manufacturing, Inc. produces air filtration, separation, and silencing products that are designed to protect machinery and the surrounding environment. The company offers a variety of products, including inlet filter silencers, intake filters, silencers, inlet vacuum filters, gas scrubbers, exhaust filters, oil mist filtration, methane filtration, and a host of custom products for nearly every industry including power generation and solar. Solberg Manufacturing, Inc. also makes crankcase ventilation RICE/NESHAP compliant products.

Date of Pledge: June 2010

Successes: In partnership with the Better Plants Program, Solberg Manufacturing, Inc. has achieved a 21.2% energy intensity improvement from its baseline consumption.

Sony DADC

NAICS 334, Computer and Electronic Product Manufacturing

Spirax Sarco, Inc.

NAICS 332, Fabricated Metal Product Manufacturing

Spirax Sarco produces steam specialty products to provide customers with a range of engineering solutions for the design, maintenance, and operation of industrial and commercial steam systems. Spirax Sarco's products are used in a variety of process industries, including food, beverage, and brewing; pharmaceuticals; oil and petrochemicals; fine chemicals; mining and metal processing; plastics; and textiles as well as Institutional, DoD, VA and Federal Government facility buildings.

Date of Pledge: November 2009

Successes: In partnership with the Better Plants Program, Spirax Sarco has achieved an 8% energy intensity improvement from its baseline consumption.

In coordination with the Energy Department and South Carolina Manufacturing Extension Partnership, the company's Blythewood, South Carolina, manufacturing facility is participating in the Southeast Superior Energy Performance Demonstration Project.

Steelcase, Inc.

NAICS 337, Furniture and Related Product Manufacturing

Sunoptics Prismatic Skylights

NAICS 335, Electrical Equipment, Appliance, and Component Manufacturing

TE Connectivity

NAICS 335, Electrical Equipment, Appliance, and Component Manufacturing

TE Connectivity (TE) is a global, $14 billion company that designs and manufactures highly-engineered solutions that connect and protect data and power inside millions of products. The Company serves a broad spectrum of markets, including automotive, broadband connectivity, energy and industrial, and consumer. TE's strength in engineering, design, manufacturing and service extends to customers in every major region of the world.

Date of Pledge: March 2010

Successes: In partnership with the Better Plants Program, TE Connectivity in 2011 achieved a 28.2% energy intensity improvement from its baseline consumption.

TE recently launched an internal energy website that gives employees access to energy data for their facilities, and profiles of completed energy projects that are categorized according to system type (e.g., compressed air, cooling, building shell, etc.), which enable replication of successful projects across the company. The site also provides guidance for pursuing reductions in all of these areas. As a companion to the website, TE has created a database to track energy reduction recommendations and implementation within the company, including energy savings potential. The database will also be used by business units to track and forecast progress toward meeting energy goals.

TE is also developing energy standards for all of its facilities worldwide, enhancing its energy audit process, and developing an air compressor procurement plan to make it easier for facilities to add controls for staging compressors and replace air compressors with more efficient units when necessary.

Tenaris

NAICS 331, Primary Metal Manufacturing

Tenaris is a leading supplier of tubes and related services for the world's energy industry and certain other industrial applications.

Date of Pledge: August 2013

Texas Instruments Inc.

NAICS 334, Computer and Electronic Product Manufacturing

Textron Inc.

NAICS 336, Transportation Equipment Manufacturing

Textron Inc. is a multi-industry company that leverages its global network of aircraft, defense, industrial, and finance businesses to provide customers with innovative solutions and services. The company is known around the world for its brands, such as Bell Helicopter, Cessna Aircraft Company, Jacobsen, Kautex, Lycoming, E-Z-GO, Greenlee, and Textron Systems. Textron Inc. is a pioneer of the diversified business model and has approximately 32,000 employees with facilities and presence in 25 countries.

Date of Pledge: July 2010

The Dow Chemical Company

NAICS 325, Chemical Manufacturing

The Dow Chemical Company (Dow) is a producer and supplier of raw materials for products in a wide variety of industries, including appliance, automotive, agricultural, chemical processing, electronics, oil and gas, and processed foods. Among its diversified portfolio are specialty chemicals, advanced materials, agrosciences, and plastics businesses that deliver a range of technology-based products and solutions. Dow is among the world's largest chemical and materials companies delivering a broad range of technology-based products and solutions to customers in approximately 160 countries. Dow is committed to leading the way for a sustainable energy future as one of the largest producers of innovative products that reduce energy use, such as solar and wind power, building insulation applications, light-weight vehicle adhesives, and water treatment technologies.

Date of Pledge: September 2009

Successes: Since 1990, Dow's manufacturing energy intensity—measured in Btu per pound of product—has improved by more than 40%, saving the company a cumulative $24 billion and 5,200 trillion Btu. These savings are roughly equivalent to the annual energy consumption of 48 million single-family homes. In partnership with the Better Plants Program, Dow has achieved a 3% energy intensity improvement from its baseline consumption.

In coordination with the Energy Department, Texas Industries of the Future, and West Virginia University, Dow has two facilities—one in Texas City, Texas, and the other in Institute, West Virginia—participating in the Superior Energy Performance Demonstration Project.

More Partner Highlights:

The Sherwin-Williams Company

NAICS 325, Chemical Manufacturing

The Sherwin-Williams Company produces, distributes, and sells paints, coatings, and other related products to commercial, professional, industrial, and retail customers. Sherwin-Williams's products include architectural paints and coatings, protective and marine items, automotive and aerospace finishes, and more. Sherwin-Williams is the United States' largest producer of paints and coatings.

Date of Pledge: September 2009

Successes: In partnership with the Better Plants Program, The Sherwin-Williams Company has achieved a 13.2% energy intensity improvement from its baseline consumption. Projects that have contributed to this improvement include retrofitting high-intensity lighting features to fluorescent lighting, identifying compressed air system improvement areas and repairing leakages, and installing Magnetic Bearing-style chillers at three facilities to achieve a more than 50% kilowatt per ton improvement. Further, the company also rearranged its warehouses to place more regularly-ordered items closer to the docks, allowing for less frequent tow motor charges and more attractive paybacks on motion sensors attached to the lights.

The Sherwin-Williams Company established an internal website that tracks production versus energy so that anyone within the company can see what their performance is in relation to the 2.5% company-wide energy-reduction goal. Overall, the company has improved its energy intensity from 7.24 kilowatt hours (kWh) per 100 pounds (lbs) of product made in 2009 to 6.62 Kwh/100 lbs. in 2011, exceeding its goal of 6.89 kWh/100 lbs.

More Partner Highlights:

The Shredder Company

NAICS 331, Primary Metal Manufacturing

The Step2 Company

NAICS 326, All Other Plastics Product Manufacturing

Thilmany Papers

NAICS 322, Paper Manufacturing

Thilmany Papers—a business unit of Packaging Dynamics—is a leading manufacturer of specialty lightweight packaging, pressure sensitive, and industrial and technical papers. The company's products are used in food and non-food applications, such as sandwich wraps, microwave popcorn bags, food labels, medical products, and industrial tapes and insulation

Date of Pledge: September 2009

Successes: In partnership with the Better Plants Program, Thilmany Papers has achieved a 19.1% energy intensity improvement from its baseline consumption. More than 35 projects have been completed including improvements to paper machine steam and condensate systems, heat recovery projects resulting from a pinch study, lighting efficiency, pumping system and other process improvements.

ThyssenKrupp Elevator

NAICS 333, Industrial Machinery

ThyssenKrupp Elevator is one of the world's leading elevator companies. The company's portfolio includes passenger and freight elevators, escalators, moving walks, boarding bridges, stair lifts, and platform lifts, as well as services for these products.

Date of Pledge: May 2011

Successes: In partnership with the Better Plants Program, ThyssenKrupp Elevator has achieved a 21.4% energy intensity improvement from its baseline consumption.

Toyota Motor Engineering and Manufacturing North America

NAICS 336, Transportation Equipment Manufacturing

Toyota (NYSE:TM) established operations in North America in 1957 and currently operates 14 manufacturing plants in North America. Toyota directly employs more than 35,000 in North America and its investment here is currently valued at more than $23 billion, including sales and manufacturing operations, research and development, financial services and design. Toyota's annual purchasing of parts, materials, goods and services from North American suppliers totals nearly $25 billion. Toyota currently produces 12 vehicles in North America, including the Avalon, Camry, Corolla, Highlander, Matrix, RAV4, Sienna, Sequoia, Tacoma, Tundra, Venza and the Lexus RX 350.

Date of Pledge: October 2010

Successes: In partnership with the Better Plants Program, Toyota Motor Engineering & Manufacturing North America, Inc. has achieved a 5.9% energy intensity improvement from its baseline consumption.

TPC Group LLC

NAICS 325, Chemical Manufacturing

TPC Group LLC, headquartered in Houston, Texas, is a leading producer of value-added products derived from niche petrochemical raw materials such as C4 hydrocarbons. The Company sells its products into a wide range of performance, specialty and intermediate markets, including synthetic rubber, fuels, lubricant additives, plastics and surfactants. TPC Group aims to be a neighbor; committed to safe, reliable and environmentally responsible operations – accountable to our community for how we do business and conduct our operations. The Company has an operating history of nearly 70 years with manufacturing facilities in the industrial corridor adjacent to the Houston Ship Channel, Port Neches and Baytown, Texas and operates a product terminal in Lake Charles, Louisiana.

Date of Pledge: July 2013

United Technologies Corporation

NAICS 336, Transportation Equipment Manufacturing

United Technologies Corporation (UTC) is a global provider of technology products and services to building systems and aerospace industries. UTC operates in multiple segments, producing products that include elevators, heating and ventilation, security systems, and aircraft engine and helicopter parts for customers in the commercial, government infrastructure, and residential property sectors.

Date of Pledge: December 2009

Successes: In partnership with the Better Plants Program, UTC has achieved a 29.5% energy intensity improvement from its baseline consumption.

In coordination with the Energy Department and the University of Massachusetts Industrial Assessment Center, the company's Stratford, Connecticut, manufacturing facility is participating in the Northeast Superior Energy Performance Demonstration Project.

Verso Paper Corp.

NAICS 322, Paper Manufacturing

Verso Paper Corp., one of the largest coated paper producers in North America, produces coated freesheet, and coated groundwood papers for use in catalogs, magazines, retail inserts, and commercial print. The company operates in three different market segments, which include coated papers, hardwood market pulp, and specialty papers.

Date of Pledge: December 2009

Successes: In partnership with the Better Plants Program, Verso Paper Corp. has achieved a 10.2% energy intensity improvement from its baseline consumption.

Volvo Group North America

NAICS 336, Transportation Equipment Manufacturing

Waupaca Foundry, Inc.

NAICS 331, Primary Metal Manufacturing

Waupaca Foundry, Inc. (formerly ThyssenKrupp Waupaca) is one of the largest iron foundry companies in the world, as well as North America's leading supplier of iron castings to markets that include automotive, agriculture, construction, hydraulics, and commercial vehicles. The company is the world's largest producer of gray, ductile, austempered ductile, and compacted graphite iron and makes use of an innovative, customized, high-pressure vertical green sand molding process.

Date of Pledge: September 2009

Weyerhaeuser

NAICS 322, Wood Products Manufacturing

Whirlpool Corporation

NAICS 335, Electrical Equipment, Appliance, and Component Manufacturing

World Kitchen, LLC

NAICS 337, Furniture and Related Product Manufacturing