Energy-Efficient Technologies
Maximizing Energy Savings from Equipment and Technology
Incrementally optimizing the systems in your plant operations is usually the most cost-effective way to improve energy efficiency. This entails applying best practices and a progressive investment in equipment and technology upgrades. AMO's decision tools can help prioritize these investments. For example, the Plant Energy Profiler (PEP) can help you quickly determine what systems within the plant use the most energy. If steam is the top energy-using system, the Steam System Tool Suite (SSTS) can help identify up to 18 upgrades to improve energy efficiency. Plant managers can then estimate the costs of these specific opportunities through their vendors, determine the payback, and make the case for capital expenditures.
Adopting a long-term energy management program is key to making cost-effective investments and retaining a knowledge base of sound energy management over time. Plants can start off using AMO's eGuide Lite and graduate to implementing the more rigorous eGuide for ISO 50001, which guides you through the process of establishing an energy management system that conforms to the International Organization for Standardization (ISO) 50001 Energy Management System Standard.
Having purchasing policies in place is important to making timely decisions that consider life cycle costs and return on investment, whether you are purchasing small components or large equipment. The eGuide Lite and eGuide for ISO 50001 include guidance for defining purchasing specifications for energy supply and incorporating energy considerations in procurement. These tools help plants get the most out of existing assets and make decisions on the large capital expenditures for state-of-the-art technology to maximize energy efficiency.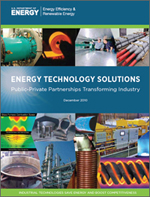 Energy Technology Solutions Resulting from AMO R&D Portfolio
Commercialized available technologies, developed with DOE support, are helping to improve U.S. competitiveness and energy efficiency in diverse industries today. In addition, knowledge-based solutions from technical research projects funded by DOE are contributing to the scientific understanding and improvement of industrial processes. Descriptions and contact information for each solution are found in the following document:
Energy Technology Solutions: Public-Private Partnerships Transforming Industry, Dec. 2010
Consider Demonstrating Emerging Technology
Emerging technologies co-funded by DOE are expected to have commercial applications within the next few years. These promising technologies are also listed in the document above, along with contact information for the researchers. Realizing the significant energy savings from new technologies requires that companies take the risks associated with being the first to use an innovation.