Low-Pressure Sodium
Applications in Industry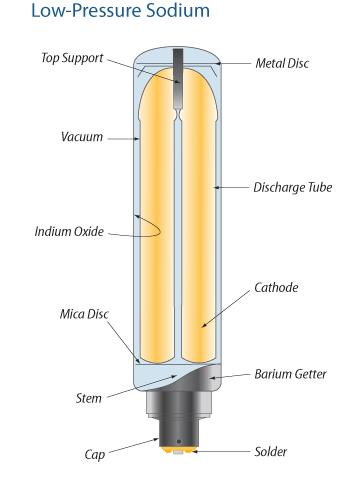 Low-Pressure Sodium (LPS) lamps are typically used in outdoor applications where color is not a priority, such as security lighting. They are the most efficient lamps available, offering low operating costs, but the yellow color emitted and elongated (up to 10 minutes) start-up times are typically unappealing to consumers.
What can replace this?
Some outdoor applications have replaced yellowish LPS fixtures with white high-pressure sodium lights. While LPS lighting is the most efficient lighting source (in that it has the highest efficacy) in theory, actual installation often requires more fixtures placed or a combination of lighting technologies due to the poor optical control.
Interesting Facts
While popular for outdoor security and street lighting, the yellow glow of LPS technology does not stimulate rods in the human eye as effectively as other lighting technologies (namely, high-pressure sodium and metal halide) causing it to be an interesting choice for many night-vision-related activities.
LOW-PRESSURE SODIUM
Lifetime
12,000-18,000 hours
CRI
-44 (very poor)
CCT
Not Applicable
Efficacy
60-150 lumens/watt

Printable Version