Russia and Eurasian Partnerships and Projects
EERE engages in the region through bilateral partnerships with individual countries. Some of the following documents are available as Adobe Acrobat PDFs. Download Adobe Reader.
Bilateral Partnerships
Kazakhstan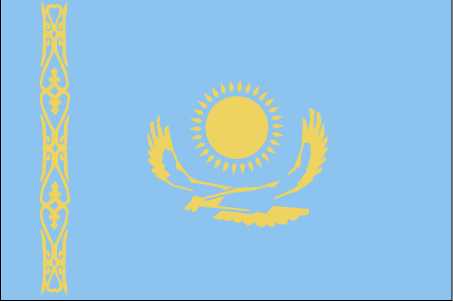 Energy Efficiency Activities
Energy Efficient Buildings
The Ministry of Energy and Mineral Resources' Committee for State Energy Oversight will release an updated version the 1997 law "On Energy Efficiency." EERE has proposed to collaborate with the Kazakh Government to support various aspects of the emerging building efficiency program under the updated law. EERE support may include the development of a technical methodology to integrate tax incentives with building and appliance standards, assistance with designing certification programs for building materials, and sharing best practices from voluntary market transformation programs codes and standards. EERE could also share information on energy-efficient and earthquake-resistant building materials and designs.
Industrial Energy Efficiency
Save Energy Now is a U.S. industrial energy efficiency program under which EERE assists companies in conducting energy assessments to reduce unnecessary energy expenditures and boost productivity. EERE partnered with the Kazakh Government to provide training on Save Energy Now industrial efficiency assessment methods, software tools, case studies and expert support programs. EERE is also assisting in designing a program similar to Save Energy Now for Kazakhstan. Industrial energy efficiency improvements provide an excellent opportunity to reduce national energy consumption, as the Kazakh industrial sector accounts for 45% of the nation's total energy use.
Renewable Energy Activities
The Kazakh Government recently acknowledged the need to diversify the nation's energy base and establish favorable conditions for renewable energy, as evidenced by President Nazabayev's July 4, 2009 signing of the law "On Support for the Use of Renewable Energy Sources." In addition, Kazakhstan's Ministry of Energy and Mineral Resources (MEMR) has announced its intent to increase the share of renewable energy (excluding hydropower) from its current level of 0.02 % to 5% by 2024. The Parliament of Kazakhstan is considering draft laws that would establish such a renewable energy mandate. Given the interest in developing national renewable energy policy, EERE has proposed to share information on best practice principles in renewable energy policy with Kazakh officials. EERE has also proposed to offer advice and input on policy design, legal and regulatory structures and conduct a review of the economic impacts of renewable energy development to be presented to government officials.
Wind Energy Cooperation
EERE has offered to partner with MEMR and the United Nations Development Programme (UNDP) to develop a complementary geospatial toolkit which will integrate maps produced by UNDP in its wind resource assessment already underway for Kazakhstan. These tools will allow policymakers, planners and project developers to manipulate layers of geospatial data in order to understand the wind resources and how they interact with other geographically dependent data needed for project planning. The toolkit is also designed to feed resource information into HOMER, a power system optimization model developed by DOE's National Renewable Energy Laboratory, which helps the project designer understand the economic feasibility of different project design configurations and other variables.
Russian Federation


Memorandum of Understanding on Energy Cooperation
In 2009, in order to reinvigorate bilateral energy cooperation between the United States and the Russian Federation, DOE and the Ministry of Energy of the Russian Federation signed a Memorandum of Understanding to establish a framework for mutually beneficial energy cooperation. The U.S. and Russia have developed work plans and defined cooperative activities in the following areas:
Energy security
Energy efficiency
Renewable energy sources
Clean energy technology innovation
Power sector infrastructure and smart-grid technology
Biofuels and other alternatives to fossil fuels
Influence of the fuel and energy complex on climate change and the environment
Energy Efficiency Action Plan
In July 2010, the United States and the Russian Federation jointly created proposals for future cooperation and action in energy efficiency. This action plan identifies several areas of cooperation in the area of energy management to be led by EERE and its Federal Energy Management Program (FEMP). Several of these areas for collaboration will help the Russian Federation develop and upgrade its domestic programs to measure energy and environmental performance of buildings and materials. EERE will also conduct workshops in Moscow for Russian government officials on a variety of energy management topics.