Jennifer MacDonald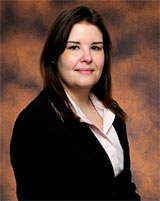 Director, Sustainability Performance Office
Jennifer C. MacDonald is the Director of the Sustainability Performance Office at the U.S. Department of Energy (DOE). She leads the coordination, report creation, and analysis of DOE's sustainability efforts to reduce energy use, water consumption, and greenhouse gas emissions and to increase renewable energy use, recycling, and building sustainability.
In 2008, Ms. MacDonald joined DOE's Budget Office, where she managed more than $20 billion in funding for energy efficiency and renewable energy. Prior to DOE, Ms. MacDonald worked on environmental health, emergency operations, appropriations, and Congressional affairs at the Centers for Disease Control and Prevention, where she entered federal service as a Presidential Management Fellow. Ms. MacDonald studied earth systems science and policy at the Biosphere 2 facility in Arizona, and has worked in the U.S. House of Representatives and with a government contracting law firm.
She holds a Bachelor of Arts in Political Science from The George Washington University, a Master of Public Administration in Environmental Science, Policy and Management from Columbia University, a certificate in Legislative Studies from Georgetown University and is a graduate of the Harvard Kennedy School of Government Senior Executive Fellows program.