EERE Small Business Innovation Research
Small business research has come a long way since 1982 when the Small Business Innovation Research and Small Business Technology Transfer Research Program (SBIR/STTR) first became law. With new approaches to research topics and new more flexible processes, EERE's SBIR/STTR program is leading the way. Since 2011, EERE has participated in a number of new solicitations involving dozens of new topics and subtopics that have resulted in awards to hundreds of new small business partners on projects well-aligned with our clean energy goals.
Follow this page for EERE SBIR/STTR news, including funding opportunities and outreach activities. For more information about SBIR/STTR, visit the Office of Science SC-SBIR website and the government-wide SBA-SBIR website. For a quick guide to EERE programs, view the EERE organization chart, and for tips on working with the U.S. Department of Energy (DOE), visit the DOE and small businesses page.
News
EERE's FY 2013 Phase I Awards Announced
The Energy Department's Office of Energy Efficiency and Renewable Energy announced the award of 48 SBIR/STTR grants totaling nearly $8 million to small businesses in 17 states. These awards will help small businesses that have promising ideas for energy efficiency, renewable power, and sustainable transportation to explore the feasibility of innovative concepts which could be developed into prototype technologies. Forty-four awards will go to SBIR projects, and four will go to STTR projects. Among the concepts to be addressed are:
A project to develop novel printable OLED lighting panels that will significantly reduce the manufacturing cost and enable larger panel size.
A project to develop a plasma-based pulsed power technology as a cost-effective, form-fit- function replacement for conventional spark plugs.
A project to develop an autonomous vehicle platform that can conduct routine inspections as well as subsea interventions – reducing cost for some operations by an order of magnitude.
A project to develop extremely high pulse rate (femtosecond) laser welding to increase efficiency and lower the cost of manufacturing automobiles and other durable goods while increasing their operating efficiency.
Outreach: Pilot to Increase SBIR/STTR Applications from Women
Later this year, the EERE SBIR team will release details on a plan to increase the number of applications for EERE SBIR/STTR solicitations from women-owned small business concerns (WOSBCs) and from small business concerns with a woman principal investigator (WPI SBCs). Women are the focus of this pilot because they are by far the most underrepresented of the socially and economically disadvantaged small business concerns participating in SBIR/STTR. Since 1983, only 6% of the applications received have been from women (five times less than the 30% share of small business concerns that are now women-owned). Engaging a representative number of women is a mission issue—an economic issue—as well as a critical need for bringing new ideas and perspectives to the innovation table. The underrepresentation of women in EERE's SBIR/STTR program reflects their general underrepresentation in energy and clean tech. Women comprise 51% of the population, represent 80% of the purchasing power worldwide, and attend college in greater numbers than men in the United States—yet they hold only 12% of energy jobs. The percentage of WOSBC SBIR applicants has not changed since 1983, nor has their fraction of awards (see the National Academy of Science's DOE SBIR study), giving rise to this expanded outreach effort.
EERE and Related SBIR/STTR Solicitations
FY2012
Phase I (Release 3)
2/20/13
Full list of awards announced
FY2013
Phase I (Release 1(SC))*
01/09/13
Awards announced
Phase I (Release 2)
04/30/13
Awards announced
Phase II (Release 1)
12/11/12
FOA closed (DE-FOA-0000782)
Phase II (Release 2)
04/17/13
FOA closed (DE-FOA-0000880)
Phase II (Release 3)
07/15/13
FOA issued
09/04/13
Applications due
FY2014
Phase I (Release 1(SC))*
7/15/2013
Topics issued
~7/22/2013
Webinar
8/12/2013
FOA issued
~8/16/2013
Webinar
9/3/2013
Letters of Intent due
10/15/2013
Applications due
Phase I (Release 2)
10/28/2013
Topics issued
~11/4/2013
Webinar
11/25/2013
FOA issued
~12/3/2013
Webinar
12/16/2013
Letters of Intent due
2/4/2014
Applications due
Phase II (Release 1)
10/21/2013
FOA issued
12/10/2013
Applications due
Phase II (Release 2)
2/10/2014
FOA issued
4/17/2014
Applications due
Past Events:
Case Studies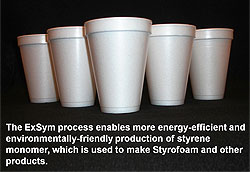 EERE has tracked commercialized SBIR-funded technologies by estimating realized and potential energy, environmental, and economic benefits of selected projects.
Featured Case Study: Exelus Inc., starting in 2005 with an EERE SBIR grant, developed the Exelus Styrene Monomer (ExSyM) process, which potentially requires as much as 50% less capital investment, uses 40% less energy, and produces 40% fewer greenhouse gas emissions than conventional styrene monomer production methods. Many commonly-used products, such as Styrofoam cups, are made from styrene monomer.
Download the Exelus case study.
Other EERE SBIR case studies: