Considering Project Requirements and Recommendations
Tip for Project Success
Consider these requirements early in the planning process as any one of them can delay or make a project unfeasible.
Considering the requirements and recommendations of the project is the fourth step in planning for a federal site solar installation.
At this point, if the project seems to be viable, the following should be considered.
Utility Interaction
If a project includes photovoltaics (PV), it also includes an electrical interconnection with the utility. The interconnection agreement is made between the organization and the utility regardless of the solar project developer's role. It's important to communicate with the utility about the proposed project early in the process. This ensures that all interconnection issues are taken into account early on, and helps avoid unpleasant surprises after significant effort has been expended. Depending on the utility and the local distribution system design, the project can be adversely affected by expensive interconnection hardware and requirements. Some requirements can be addressed during the design stage through equipment specifications, which incurs only a nominal extra cost as compared to purchasing additional equipment.
Changes in the electricity tariff rate structure should also be explored and discussed with the utility. Based on the system's projected hourly and seasonal performance, a more optimal tariff could be available that could potentially offset both energy (kilowatt-hour or kWh) charges and demand (kilowatt or kW) charges. Although utilities are important partners in the process, they might not be enthusiastic about reduced electrical consumption. Thousands of utilities operate in the United States—each with unique rate structures and policies—so it's important for those planning a renewable energy project to understand their rights as consumers and know what impact the solar system will have on future utility billings. For example, a utility could impose a standby charge to cover the cost of maintaining generation resources that are used when the solar energy system is not generating. An agency should also determine whether it can sign a utility interconnection agreement that has indemnification clauses.
The system owner and utility will eventually develop an interconnection agreement that defines all the specific requirements and terms of the interconnection. Information on state-specific interconnection standards is available.
National Environmental Policy Act (NEPA) Compliance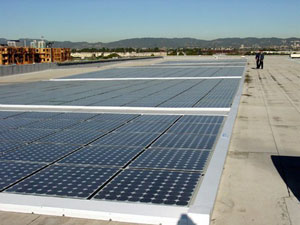 Opinions differ among agency representatives about when NEPA should be addressed during the process, but it's best to consult the environmental expert responsible for NEPA early in the process. This will ensure that the expert is informed about the decisions and the directions regarding the site locations for the project. This (and possibly other information) will help guide information that will eventually go into the request for proposal (RFP) and ensure that the project stays on track. The following is a general overview of the National Environmental Policy Act.
If the project is located on federal land or uses federal funding, it must comply with NEPA. The effort involved to comply with NEPA greatly depends on where the project is located on the site and also on the project's scale. The impact of a rooftop system, for example, is typically less than that of a ground-mounted system. As a result, it's usually easier for such systems to comply with NEPA.
The agency environmental expert assesses the proposed system, and the assessment produces one of the following three results:
Level 1 — Categorical exclusion: A letter stating exclusion is issued and the process is complete. (Note that rooftop and small ground-mounted projects generally receive a categorical exclusion.)
Level 2 — Environmental assessment (EA): This has two possible outcomes.

Finding of no significant impact (FONSI): If an EA is required, the best outcome is receipt of a FONSI. This process usually costs less than $500,000 and takes less than 6 months.
If the EA finds that environmental consequences could be significant, an environmental impact statement (EIS) must be completed.

Level 3 — EIS: If the environmental expert finds that the project could have a significant environmental impact from the start, an EIS is completed without completing an EA first. This process can cost $1 to $2 million and take up to 18 months. If successful, a record of decision is received and the project can move forward.
Site Master Plan Review
If there is a master plan for the site, it should be reviewed at this stage. A solar energy project is a long-term commitment, typically in place for 25 years or longer. When reviewing a master plan from a 25-year perspective, things to consider include plans for undeveloped land that might be a site for ground-mounted collectors or, in the case of rooftop arrays, determining if and when a building is scheduled for retirement. Also important is whether any architectural plans include aesthetic features that could preclude the installation of solar energy equipment. In such cases, site managers have found that their project site options can be significantly limited.
Requirements for Meeting Renewable Energy Goals
Meeting federal renewable energy goals is a common motive for implementing a renewable energy project. When this is the case, it's important to understand the rules for counting renewable energy toward the EPAct 2005 requirements and the Executive Order (E.O.) 13514 greenhouse gas (GHG) requirements, as well as toward individual agency mandates. By using solar power to generate electricity, agencies can reduce GHG emissions and produce environmental attributes from the solar power project, such as renewable energy credits (RECs).
This includes all environmental attributes under federal guidance under EPAct 2005 and E.O. 13423. The agency can choose to sell these attributes, allow the developer to sell them, report them to meet EPAct 2005 requirements, or use them to reduce carbon dioxide emissions under E.O. 13514. Under generally accepted GHG accounting principles, however, an entity must own the RECs from a project before it can claim emissions reductions. The rules governing REC usage vary from agency to agency, they aren't always intuitive, and they dictate how project generated RECs are used. The agency energy manager can explain the agency's approach.
General Services Administration (GSA) gives an example in which more valuable PV RECs were sold to a local utility for $0.24/kWh and inexpensive replacement RECs from wind energy were purchased for less than $0.01/kWh. This greatly increased the economic viability of the PV project. Based on Federal Energy Management Program (FEMP) guidance for the EPAct renewable energy goal, because the renewable energy project is located on federal land, this transaction enabled the party to claim the bonus for the electrical production from the project. The FEMP allows substitutions of RECs for projects on federal or tribal lands to claim the bonus under the EPAct 2005. The generally accepted rules for GHG reporting are different, allowing only single counting of the environmental attributes owned (in this case, the purchased wind energy RECs). Federal guidance for GHG accounting under E.O. 13514 is currently being reviewed. Visit the FEMP Web site for current information.
One problem with selling more valuable solar RECs and buying cheaper replacement RECs is the uncertainty surrounding the ability of federal agencies to sell federal property (in this case the solar REC). Solutions that will allow other agencies to sell solar RECs are being evaluated. One solution, similar to the approaches used to take advantage of incentives, is to arrange for the private developer to own and sell the RECs in return for offering the agency a better deal on the project. In this case, because the agency never takes ownership of the RECs, it's not directly involved in the sale.
Project Incentives
The solar screening should include all potential incentives that would help the economics of the project. At this point in the process, it's wise to ensure that all incentives have been included and important to understand federal requirements and the agency's policies on incentives. The economics of renewable energy projects are often dependent on federal and state incentives, and the federal government is ineligible for many of these incentives. Private developers, however, can take advantage of the tax credits, grants, and other incentives that drive the renewable energy markets. This becomes a key consideration in deciding whether to fund the solar project through direct appropriations or alternative financing.
Most states have energy incentive programs that help offset energy costs and promote energy efficiency and renewable energy technologies. FEMP staff members research these programs on a state-by-state basis to help federal agencies meet their energy management goals. A Database of State Incentives for Renewable Energy (DSIRE) is available. A summary and details for incentive programs can be accessed by state, and information on federal incentives is available as well. This information can aid in determining which incentives apply to an agency's specific circumstances and help estimate any economic impact on the project. It is also critical to consider the time limitations on the incentives and confirm that they will still be offered when the project will be applying to receive them. Although DSIRE information is typically up to date, it's always a good idea to verify the status and availability of incentives with the administering agency or utility.
Renewable energy credits are the property right attribute created when electricity is generated by a renewable energy source. The RECs specific to solar energy generation (solar renewable energy credits or SRECs) generally have greater value. The RECs and SRECs can be sold to a utility to help meet its renewable portfolio standard (RPS) needs, sold on the voluntary market, or "retired" and counted by the agency toward its mandated renewable energy requirements. If RECs are sold or retained by the developer, however, the project no longer qualifies as renewable energy required to meet the EPAct 2005 goal and likely will not be allowable for reducing GHG emissions.
An agency might also have a policy on accepting certain incentives. Several agencies are evaluating whether accepting financial incentives from limited financial pools reduces the incentives available to private-sector investment. If this is the case, agencies could establish policies prohibiting the use of available renewable energy and energy efficiency incentives in projects.
Historic Building Issues
Section 106 of the National Historic Preservation Act requires federal agencies to consider the effects of their projects (or projects requiring their assistance or approval) on historic properties, and to give the Advisory Council on Historic Preservation (ACHP) an opportunity to comment. Historic properties are defined as "any prehistoric or historic district, site, building, structure, or object included in or eligible for inclusion in the National Register, including artifacts, records, and material remains related to such a property or resource" [16 U.S.C. § 470(w)]. Section 106 of the NHPA does not mandate preservation, but outlines a process for considering alternatives and allows the public to influence decision making. A factsheet with more information is available.
If a project can cause adverse effects on historic sites or buildings, a legally binding agreement is typically used to resolve those effects. If no agreement can be reached, the ACHP issues advisory comments that the head of the agency must consider. Regulations governing the review process are available.
Computer Network Connectivity Authority
Many renewable energy systems—especially electric systems—require automated monitoring and control. This is usually accomplished by connecting the renewable energy system to a facility's existing building-monitoring system through a computer network connection. Some computer networks are operated under contracts that have very specific requirements. These contracts can be restrictive, allowing only network connection of specific devices, and sometimes even permitting only a limited set of preapproved software and hardware. It's crucial that the parties controlling the computer network be involved early in the process, because it's difficult and time-consuming to acquire the "authority to operate" a system connected to the network. An example is the United States Navy's computer networks, which are operated by a contractor under the Navy/Marine Corps Intranet (NMCI) contract. A renewable energy system that required a network connection was installed, but because of the contract it couldn't be operated until required permissions were obtained—which was a long and difficult process.
Buy American Act Provision
The Buy American Act restricts the federal government's purchase of supplies and construction materials that are not made domestically. The act contains many provisions, and when looking at the specification of components for a solar system, it's difficult to determine which products comply and which do not. The current understanding is that a product manufacturer self-certifies its products as meeting the provisions of the Buy American Act, and that an audit system exists for this certification process. This guide cannot confirm the correctness of this process, but it provides the best information available at the time of publication. If a project team decides to install solar equipment that complies with the Buy American Act, the equipment can be purchased directly from a manufacturer that meets this requirement, or this requirement can be specified in the RFP and in the final contract. It's important to consult with an agency's buyers and procurement office about their latest understanding of the agency's specific requirements.
After making the necessary planning decisions, the next step in the planning process is selecting your financing or contracting option for the solar installation.