U.S. Department of Energy - Energy Efficiency and Renewable Energy
Solar Energy Technologies Program – Procuring Solar for Federal Facilities
Assembling an On-Site Team
Tip for Project Success
Ensure your team has:
Project champion who has authority to work through project barriers
Contracting officer and legal counsel with strong leadership characteristics to work through procurement ambiguities
Members aligned with project goals.
Assembling an on-site team is the second step in planning for a federal site solar project.
A solar project team is important both to help get the work done and to make sure that all issues are considered. Even small oversights can be costly in terms of dollars and time, and can result in a failure to accomplish project goals.
One of the most important features of the team should be its alignment with the project's goals. The project goals can adjust with team input—and healthy debate on project questions is useful—but if any team member hasn't bought into the goals before being invited to join the team the project won't go smoothly. Referring to Step 4, "Consider Project Requirements and Recommendations," can help when considering the makeup of the team. That step outlines the diverse considerations that feed into successful project completion. It's important to recognize that it takes a diverse group of people with a wide range of skills to bring a project to fruition.
The initial solar project team might be small and include only those members relevant to the immediate task; this type of team can grow as the project requires. As an alternative, the team could include—from its inception—everyone who has a stake in the project process. This decision should be based on best judgment and staff availability.
Core Team Members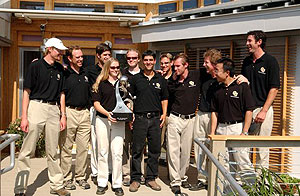 If starting with a small team, the people who should participate, particularly in Step 3, where the site's solar screening step is evaluated, include the following:
Solar project manager
Contracting officer
Energy manager
Environmental expert (responsible for environmental review under the National Environmental Policy Act or NEPA)
Facility manager
Site managers (if multiple people are responsible for different parts of the site)
Solar technology expert (depending on procurement option selected)
Utility point of contact.
As the project progresses, adding other team members should be considered:
Attorney or general counsel (e.g., for contract and authority issues)
Budget officer
Facility master planner
Real estate officer
Safety officer
Sustainability officer.
Several factors will ensure the team's success. For example, a high-level person from the agency should participate. This person doesn't need to be involved in the details of the project, but should check in periodically to help move the project forward and overcome barriers that might otherwise stop or delay a project. It's also critical to select a contracting officer and legal advisor with strong leadership characteristics, because it might take initiative and innovation to push a project through ambiguous areas of the procurement process. Team dedication and creativity are crucial as well, because these traits are essential for finding innovative, cost-effective solutions, if necessary. The solar energy system procurement process is relatively new, and although challenges are being addressed and resolved, issues may still exist. Navigating around these obstacles requires leadership, commitment, and creativity.
Building and site occupants are also stakeholders in the project. A representative of this group can be included in the team as a liaison to keep communications open—especially if the project will have any sort of significant impact on occupants.
After the team is assembled, its roles, responsibilities, and timelines should be established. Scheduling periodic meetings will keep the project moving forward on track.
After assembling the on-site team, the next step in the planning process is to evaluate the site.