Solar Contacts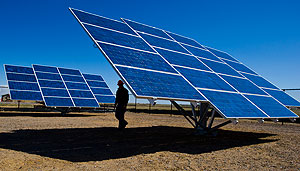 This page lists Solar staff members who are dedicated to achieving the SunShot Initiative goals. Please call the general contact number listed below to contact Solar Office.
U.S. Department of Energy SunShot Initiative
Phone: 202-287-1862
E-mail: Solar Energy Technologies Office
Address:
1000 Independence Avenue, SW
Washington, DC, 20585
Additional information about visiting program offices is available for guests.
Solar Energy Technologies Office Contacts
Solar Manager
Minh Le
Team Leads
Photovoltaics Team Lead
Lidija Sekaric
Concentrating Solar Power Team Lead
Ranga Pitchumani
Systems Integration Team Lead
Kevin Lynn
Acting Balance of Systems Team Lead
Minh Le