Systems Integration Subprogram Highlights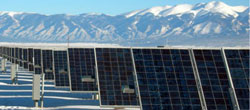 Visit the High Penetration Solar Portal for the latest on solar grid integration.
To accomplish the goals of the SunShot Initiative, the Department of Energy's Systems Integration subprogram funds efforts that address the technical barriers associated with large-scale solar deployment. The highlighted Systems Integration activities are grouped into the following categories:
Visit the Systems Integration website for more information about ways the Solar Program is supporting innovation.