The DOE SunShot Initiative is a national collaborative effort to make solar energy cost-competitive with other forms of electricity by the end of the decade. Learn more.
Quick Links
Latest Updates

Loading News feed...

Loading Funding feed...

Loading High-Pen feed...
Project Highlight
Evergreen State Solar Partnership
Four cities are leading ground-level efforts to make Washington State's solar landscape more efficient and predictable across 285 cities, 39 counties, and 62 utilities. Learn more.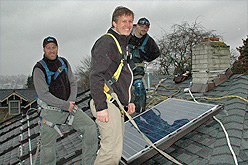 ---