U.S. Department of Energy - Energy Efficiency and Renewable Energy
SunShot Initiative
Education, Training, and Workforce Development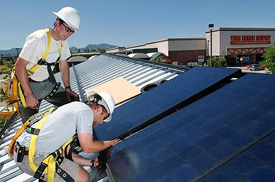 The U.S. Department of Energy Solar Energy Technologies Program (Solar Program) is helping to develop a workforce with the critical skills required to meet the needs of a rapidly growing solar industry. A well-trained workforce is necessary to ensure quality installations, cost reductions, and consumer confidence in the reliability of solar installations.
Education, Training, and Workforce Development activities are funded through the Solar Program's Market Transformation efforts. These activities focus on building the capacity of U.S. educational institutions to respond to the increased demand for high-quality training for workers involved in the solar system installation process.
The Solar Program partners with organizations to provide resources to the following groups:
Request for Information Update
In May 2010, DOE released a Request For Information (RFI) on solar workforce certifications and training program accreditation. Based on the comments received under this RFI, respondents agreed that DOE leadership and financial support in this area is important. Because there was not a clear consensus regarding the exact direction DOE should take, the Solar Program plans to gather additional stakeholder input in early 2011 to identify the key issues surrounding credentialing and assessment of the solar workforce. Please note there are no plans to issue a competitive solicitation in this area, but funding opportunities may be available at a later date.