U.S. Department of Energy - Energy Efficiency and Renewable Energy
SunShot Initiative
Solar Educational Resources for Educators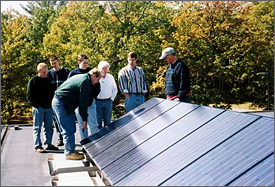 The Solar Program helps develop solar education and training resources for educators by partnering with two key organizations.
Both the Interstate Renewable Energy Council (IREC), North American Board of Certified Energy Practitioners (NABCEP), and New Mexico State University (NMSU) receive Solar Program funding, as a part of its Market Transformation activities with the goal of increasing market acceptance of solar technologies.
The following activities support educators who are teaching classes to the solar workforce.
Solar Instructor Training Network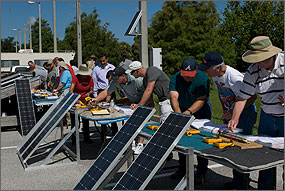 The Solar Program launched the Solar Instructor Training Network in October 2009 to promote high-quality training in the installation of solar photovoltaic (PV) and solar heating and cooling (SHC) technologies. Nine regional resource and training providers offer professional development opportunities to trainers and instructors at local educational institutions.
Local educators may be eligible to participate in train-the-trainer workshops, online training, conferences, and other activities sponsored by the regional training providers. All educators will have access to products of the training network, such as new curricula and best practices for developing training programs and assisting students with entry into the solar installation industry.
The goals of the Solar Instructor Training Network are to accelerate market adoption of solar technologies by ensuring that high-quality installations are standard and to create sustainable jobs within the solar installation industry.
Training Program Accreditation and Instructor Certification
The Institute for Sustainable Power Quality (ISPQ) is an international standard that specifies requirements for competency, quality systems, resources, and curriculum to accredit training programs and certify trainers. As the North American licensee for the ISPQ standard, IREC manages all ISPQ designations. IREC's Renewable Energy Training Catalog includes solar training providers within the United States, and the catalog entries indicate whether an organization has ISPQ-accredited training programs and is an accredited continuing education provider, and have faculty which are ISPQ-certified instructors or ISPQ-certified master trainers.
Registering as an Educator
Instructors can register to be educational providers of solar courses.
NABCEP Listing of Registered Providers
Funded by the Solar Program, NABCEP provides a voluntary national certification for energy practitioners, including installers of photovoltaic and solar hot water systems. Educators can register with NABCEP to become a provider of its PV Entry Level Program. NABCEP maintains a list of current providers.
Via its task analyses for both photovoltaic and solar hot water installers, NABCEP details the skills and abilities that system installers should possess.
IREC Renewable Energy Training Catalog
The Renewable Energy Training Catalog allows providers of renewable energy training to be listed in the catalog, after the information is reviewed and approved.
Workforce Development Publications
Listed here are resources developed for solar educators.
IREC provides assistance to educational providers for developing renewable energy training programs.
Workshops and Conferences for Educators
The third national conference on New Ideas in Educating a Workforce in Renewable Energy and Energy Efficiency was a success, and planning for the next one in 2011 is underway.
The SEET project provides professional development training for community college technology instructors. Training focuses on sustainable energy and energy efficiency, delivered through 10-day intensive annual technology workshops at the National Renewable Energy Laboratory and continues through online networking activities.