U.S. Department of Energy - Energy Efficiency and Renewable Energy
SunShot Initiative
Solar America Showcases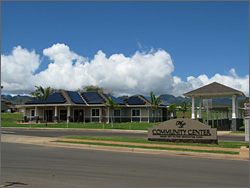 The U.S. Department of Energy (DOE) Solar Energy Technologies Program provides technical assistance to prominent, innovative applications of commercially available solar technologies through its Solar America Showcases activity. Initiated in 2007 under the former Solar America Initiative, the goal of Solar America Showcases is to accelerate the demand for solar technologies by providing in-kind support for projects that inspire local governments, citizens, and organizations to use solar energy technologies.
Ideally, Solar America Showcases reflect some or most of these qualities:
Use of a novel solar technology or application
High-visibility installation
Replicable in whole or in part.
Solar America Showcase awards made through April 2009 required solar systems with an installed capacity greater than 100 kilowatts, while awards made through early 2010 required a minimum installed capacity of 250 kilowatts.
The selected projects could include photovoltaic (PV), concentrating solar power (CSP), solar water heating applications, or a combination of these. The technical assistance, provided through DOE's national laboratories, encompasses:
Permits and regulatory compliance
Structural analysis of the existing building
Solar financing options
Structural upgrade suggestions
Architectural, mechanical, and electrical design assistance
Project management assistance
Best practice recommendations.
Applications for the final round of Solar America Showcases awards were accepted through March 2010. No additional Solar America Showcases awards are planned.