Project Highlights
More than 250 awardees are working to accomplish the U.S. Department of Energy SunShot Initiative goal of making solar cost-competitive with other forms of electricity by the end of the decade. Below are project highlights from just a few of the SunShot partners. Select an awardee to learn more about their efforts.
Broward County: Setting Flat Fees for Rooftops of All Angles
Pizza delivery or solar permit in 30 minutes? With the upcoming launch of an online permitting system, residents in southeastern Florida can get a solar energy system permit and a preapproved set of design plans in just half an hour. Thanks to the Broward County Rooftop Solar Challenge team, the streamlined Go SOLAR website represents a major step toward reducing the installed cost of photovoltaic (PV) systems.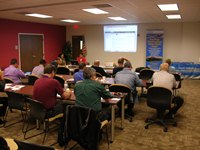 Since signing on to the DOE's SunShot Rooftop Solar Challenge in February, the Broward County team has worked to standardize the permitting process. The new online system allows solar contractors to fill in data fields such as the customer's roof type, PV panel selection, and mounting system. Based on that information, the contractor receives a preapproved set of design plans that are signed and sealed by an engineer.
"We developed a range of possible design plan permutations based on the customer's selection of panel type, roof type, electrical schematic, and mounting system," said Jeffery Halsey, director of the Pollution Prevention Division for Broward County.
Of course, solar contractors can still work with an engineer to design the system and then get the plans approved at the city department. However, the online approach offers a way to save both time and money.
"Essentially what we are doing is commodification of the rooftop PV system," said Jeff. "We feel like the process of going solar should be more like selecting an appliance to best fit the kitchen in your home given a range of options at the hardware store."
In addition to taking the guesswork out of designing residential solar energy systems, Broward County also standardized the permitting fee to cover health and safety costs, which used to differ wildly just within Broward County. Now, a flat fee of $539 covers all necessary inspections by building code officials.
Fourteen municipalities have already signed on to offer online solar permitting with flat fees in their local jurisdiction. For the remainder of the one-year contract, the Broward County team will focus on expanding its impact to other communities within the county through outreach efforts.
"We want to build momentum for renewable energy here in south Florida," said Jeff. "It's a perfect time right now with hardware prices coming down and customer demand for installations rising. Add that to the fact that it's now a whole lot easier to get a permit, and we are hoping to see a real positive impact on the local solar market."
The Broward County team is inviting all interested parties to its Go SOLAR Fest being held January 25–26, 2013, at the Broward County Convention Center. At this event, the team will review the many accomplishments of the Go SOLAR program. More details are available at the Go SOLAR website.
This project is funded by the Rooftop Solar Challenge program under the U.S. Department of Energy SunShot Initiative.
Cascade Renewable Energy: Providing Elegant Solutions for Rooftop Riddles
What do you get when you combine almost four decades of expertise in plastics engineering, a deep-seeded commitment to sustainability, and an opportunity to innovate with DOE funding support? One of the market's first injection-molded plastic solar photovoltaic (PV) racking systems.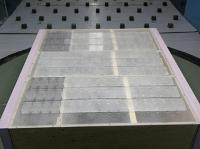 Cascade Renewable Energy, a Cascade Engineering Company, is developing this lightweight, low-cost technology under SunShot's Extreme Balance of System Hardware Cost Reductions (BOS-X) program. Just last month, Cascade received the first full-size prototype of its plastic racking system for flat roofs. This milestone represents significant progress less than one year into the two-year project.
"Before applying for DOE funding, we worked to identify waste streams and areas that didn't add value in the process," said Rich Peek, Cascade Renewable Energy's engineering manager. "We talked to installers and engineers at five project sites and connected with other groups in the solar space for input."
After gathering multiple data points, Cascade proposed a plastic-based PV racking system as a practical way to reduce balance-of-system (BOS) costs, which include everything except the solar panels. Cascade is now focused on testing, adjusting, and finalizing their design so they can go into production and make this solution commercially available.
A 2010 Rocky Mountain Institute report estimated that structural systems alone cost about $0.95/W for rooftop installations. Cascade's project, which reduces mechanical and electrical labor as well as the cost of the structural system, aims to reduce total BOS costs by 25%. If successful, this represents a viable pathway to reaching the $1.25/W SunShot cost target for commercial systems.
"We are on track to reach our goal," said Peek.
This project is funded by the BOS-X program under the U.S. Department of Energy SunShot Initiative.
Evergreen State Solar Partnership: Watering the Seeds of Innovation
Communities across Washington State will soon have access to more affordable residential and small commercial rooftop solar systems, thanks to the work of DOE SunShot Initiative awardee Evergreen State Solar Partnership (ESSP). The Rooftop Solar Challenge I team convened jurisdictions, utilities, and industry partners representing a regulatory and market environment as varied as the state's diverse ecosystems to lower the costs of rooftop photovoltaics (PV).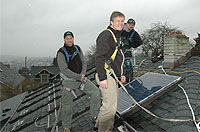 ESSP, which grew from the vision of the Northwest Sustainable Energy for Economic Development (Northwest SEED) and the WA Department of Commerce, State Energy Office, is one of 22 Rooftop Solar Challenge teams wrapping up year-long efforts to reduce the soft costs of solar.
"Previously, several of the participating jurisdictions required a plan review, building permit, and electrical permit for every installation project," said Jennifer Grove, Executive Director of Northwest SEED. "Now, installers are able to complete a more straightforward permitting process with lower fees and may not have to complete a structural review or building permit for simple rooftop solar projects."
ESSP is also developing a standard interconnection application agreement that incorporates net metering, interconnection, and production metering all into one application. When approved, the agreement will be applicable to the largest utility in the state, with other publicly owned partner utilities following suit.
According to Grove, the group's successes have come from engaging a dedicated team and delegating tasks for maximum efficiency. "ESSP is a diverse partnership, and each entity uses its unique connections and affiliations to reach out as needed to achieve streamlined permitting and interconnection."
For example, the State Energy Office met with legislators on proposed reforms to WA solar incentives. Sustainable Connections—a non-profit group representing NW Washington business and community leaders—made phone calls to the top installers in the state to solicit project feedback. Meanwhile, Northwest SEED worked with policy advocates to clarify third-party ownership models and improve the state's net metering law.
Four cities—Bellevue, Edmonds, Ellensburg, and Seattle—and the utilities that serve them—Puget Sound Energy, Snohomish PUD, the City of Ellensburg, and Seattle City Light—are now transforming the state's solar landscape. Together, they are leading ground-level efforts to make processes more efficient and predictable across 285 cities, 39 counties, and 62 utilities.
To enable its work to be replicated in the market, ESSP has conducted webinars through the Municipal Research and Services Center of Washington, published reports on permitting, interconnection, financing, and zoning, and delivered public presentations at energy events such as the Future Energy Conference, Solar Washington Membership Meetings, Northwest Environmental Business Council luncheon, and World Renewable Energy Congress. The project has been featured in local news such as the City of Bellevue's online newspaper.
This project is funded by the Rooftop Solar Challenge program under the U.S. Department of Energy SunShot Initiative.
General Atomics: Storing Solar Energy in Chemical Bonds
With support from a Baseload Concentrating Solar Power (CSP) Generation award, General Atomics is demonstrating the technical feasibility and economic viability of using a sulfur-based thermochemical cycle to store heat from a CSP plant in order to support baseload power generation. With a high energy storage capacity and very low materials cost, sulfur brings the potential to dramatically increase the availability and decrease the cost of solar energy.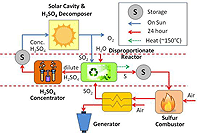 "The SunShot Initiative encouraged us to explore innovative process ideas to further reduce costs," said General Atomics engineer Dr. Bunsen Wong. "With SunShot's requirements applied across the board, we know where our technology stands with respect to other inventive project ideas."
Under this competitive award, General Atomics has demonstrated in the laboratory—and is now in the process of scaling up for demonstration—an approach that harnesses the sun's energy to carry out a series of chemical reactions to produce sulfur and, in turn, uses the heat from sulfur combustion to provide a constant supply of electricity. This approach can be used in high-efficiency power conversion systems, such as those using a Brayton or combined cycle.
"SunShot's target for energy storage cost is $15/kWh, and our approach can bring the cost down to $2/kWh because sulfur is so inexpensive, abundant, and easy to store," Dr. Wong said. "By integrating storage this way, we can significantly decrease the levelized electricity cost of solar energy."
"Storing and transporting solar energy in chemical bonds has untapped potential for CSP, which makes sulfur thermochemistry an area of great interest for us," said Dr. Ranga Pitchumani, director of the SunShot Initiative concentrating solar power program. "The process being developed offers a unique advantage because sulfur generation from solar energy and electricity generation from sulfur combustion can be decoupled if needed, so sulfur can be generated using solar energy in regions well-endowed with solar radiation and then be transported to regions that are geographically weak in solar irradiance and combusted to produce electricity," he added.
This project is funded by the Baseload Concentrating Solar Power Generation program under the U.S. Department of Energy SunShot Initiative.
Georgia Tech: Getting Solar Pros Grinning With Faster Installations
With support from the SunShot Initiative Extreme Balance of System Hardware Cost Reduction (BOS-X) program, the Georgia Tech Research Institute (GTRI) is helping solar professionals install photovoltaic (PV) racking and mounting systems 75% faster than is possible with the standard approach—and according to project lead Joseph Goodman, that's getting installers grinning.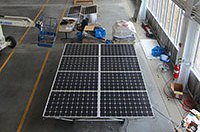 "GTRI has developed prototype solar racking and mounting systems based on installer and customer feedback—and the installation teams are excited to see their ideas incorporated in our newly engineered designs," Goodman said. "This is clearly shown by the grins on installers' faces as they think about fewer hours spent on scorching roofs during a Georgia summer."
Installers aren't the only ones smiling either: "This optimism extends to the operations managers when they realize how many more installations can be completed because of the improved labor time. That causes significant reductions in overhead costs as measured in dollars per watt," Goodman added.
A lack of industry data has historically hindered accurate predictions of solar installation time. To overcome this challenge, GTRI partnered with the Georgia Tech School of Building Construction and the Rocky Mountain Institute to collect and analyze installation data in order to more precisely predict the impact of design alternatives on labor time. Using this installer feedback, the GTRI team developed innovative residential, commercial, and utility PV racking and mounting systems that not only reduce installation time by 75%, but also cut balance-of-system (BOS) hardware and associated labor costs by 50% over current industry best practices.
The multidisciplinary project team comprises 35 students and nine faculty members at Georgia Tech along with several industry partners, including local companies Radiance Solar and Suniva, Inc. Now in year two of the three-year project, the team is developing proof-of-concept system designs for certification and field testing. These 60%- and 90%-commercial-ready designs incorporate carefully selected features and system configurations, lower-cost materials, and advanced manufacturing processes.
"We anticipate these technologies reaching the market as early as 2015, with initial field demonstrations in 2013 and 2014," Goodman said. "We expect the innovations in hardware will trigger a multiplier effect of savings in BOS costs and overhead expenses."
For their innovative and collaborative approach to BOS cost reduction, the team recently won the University Strong Award in the Metro Atlanta Chamber's 2013 E3 Awards—an accolade backed up by the 30 invention disclosures and 19 provisional patent applications spurred by the project to date.
The project is funded by the Extreme Balance of System Hardware Cost Reduction (BOS-X) program under the U.S. Department of Energy SunShot Initiative.
Mid-America Regional Council: Bringing More People to the Solar Table
The Mid-America Regional Council (MARC) has made significant improvements to the process for installing solar in the Kansas City region since signing on to take the DOE SunShot Initiative's Rooftop Solar Challenge last February. Now six months into their one-year contract, the MARC team is ready to bring others to the table.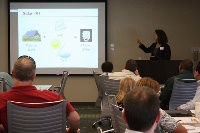 MARC held a discussion forum in August to present the Solar Best Management Practices to local stakeholders. This event helped highlight significant progress as well as additional needs. For example, a representative from a local suburb requested a resolution that the city council could sign as a commitment to look at adopting the solar best practices. After less than one week of making that available, one of the biggest counties in the region signed on and another suburb was considering it as well.
This kind of appetite for solar policy improvements is what drove the MARC Solar Ready KC partnership, which includes five jurisdictions and the largest local utility, to form in the first place. The collaborative team's ability to make rapid progress on these issues is enabling them to stay ahead of the curve.
"The demand used to be such that applications were looked at on a case-by-case basis, but this region is rapidly turning into a more vibrant market," said Beth Dawson, solar energy coordinator for MARC. "Prior to 2009, we only had 30 interconnection requests. Now we are averaging about 100 per year and expect roughly 600 requests this year."
To make this transition go smoothly, MARC began developing measures to clear a path for the rapid expansion of solar energy in the Kansas City region. The resulting best management practices strive to facilitate solar installations by clearly explaining the process, standardizing permit fees, incorporating utility notification, and prequalifying plans.
Six months into their one-year contract, MARC has also produced a streamlined permit checklist and application for local residents wishing to install solar photovoltaic systems on their homes.
"The key to the successes we've seen so far has been making sure that everyone is at the table," said Beth. "We are excited to be having these conversations and finding out how we could be doing better."
The MARC team hopes that more jurisdictions will get on board with their streamlined approach in the coming months. With training sessions on the best management practices underway, it's time to pull up a chair. The more, the merrier.
About MARC
MARC is a nonprofit association of city and county governments and the metropolitan planning organization for the bistate Kansas City region. MARC provides a forum for nine counties and 120 cities representing approximately 800,000 residents to work together to advance social, economic, and environmental progress.
Pacific Northwest National Laboratory: When Life Gives You Solar, Make Syngas
It's hard not to get excited when talking with Robert Wegeng about the potential for solar thermochemical energy systems to advance the concentrating solar power (CSP) industry. Pairing his record-setting reaction system with a natural gas combined-cycle (NGCC) power plant could lead to achieving SunShot cost targets. And soon.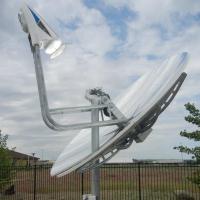 Wegeng and his research team at Pacific Northwest National Laboratory (PNNL) achieved their world record 63% (+/-4%) solar-to-chemical energy conversion efficiency during a 2011 demonstration test supported by a 2009 DOE CSP American Recovery and Reinvestment Act award. The project not only provided a proof-of-concept for the solar steam methane reforming process—it exceeded expectations with its promising results.
The PNNL system uses a modified Infinia dish concentrator to drive an endothermic reaction that produces syngas when direct sunlight is available. The syngas product, which contains 20%–30% more chemical energy than the incoming methane stream, acts as a heat source that can drive a heat engine to produce electricity. When sunlight is not available, the power plant reverts to using natural gas.
"Converting solar energy to chemical energy is thermodynamically a lot like making work, which is hard to do," said Wegeng, a chief engineer at PNNL and project leader. "The efficiency we reached was likely limited by the temperature at which we ran the reaction, so we think we can get it into the 75% range if we get it hotter."
Forging ahead on this path, Wegeng is able to take a bolder, more comprehensive approach building on his successful proof of principle. Through a 2012 SunShot CSP Research and Development award, his multilayered goals include pushing the efficiency of the system higher and understanding how the manufacturing process for the hardware affects the levelized cost of energy for the power plant. The research team hopes to develop its technology from proof of concept to a validated prototype under the current award.
By leveraging Wegeng's microchannel research, which stretches back to the 1990s and earned him two R&D 100 awards, this project could have an impact on the market in as few as three years. The PNNL team has signed a license agreement that solidifies SolarThermoChemical LLC as a cost-share and commercialization partner in the project. If all goes according to plan, SolarThermoChemical will be able to mass-produce the integrated solar thermochemical reaction system for market consumption when the performance period ends in 2015.
"CSP offers unique opportunities for solar integration with fossil energy sources, and harnessing this synergy in a high-efficiency hybrid configuration is one of the promising pathways for achieving cost reductions and greater adoption of CSP," explained Ranga Pitchumani, director of concentrating solar power for the SunShot Initiative.
"This project helps the overall CSP industry by providing a near-term application for solar energy hybridization with fossil energy," said Wegeng. "A rising tide raises all boats. If we can make this work, we can help CSP reach grid parity sooner."
This project is funded by the SunShot Concentrating Solar Power Research and Development program under the U.S. Department of Energy SunShot Initiative.
SolarBridge Technologies: Helping Solar Modules Speak the Language of the Energy Grid
SolarBridge Technologies is collaborating with the University of Illinois at Urbana-Champaign to develop an innovative solution to make rooftop photovoltaic (PV) systems easier to install and more affordable for businesses and homeowners.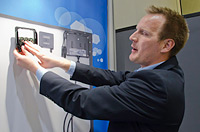 "This is a tough investment market, but with more risk, you get more rewards," says SolarBridge CTO Patrick Chapman. "We were already in the market, but the SunShot award helped us win new accounts and accelerate the technology. It has allowed us to try new ideas."
These new ideas include cutting the costs involved with integrating solar panels with inverters. Solar panels create direct current (DC) from sunlight. However, PV systems require an inverter to convert DC into grid-friendly alternating current (AC). SolarBridge will partner with a U.S.-based PV module manufacturer to provide a cost-reduced AC module with a preinstalled microinverter, eliminating the need to install separate components.
Under the SunShot/SEGIS-AC award, SolarBridge is working diligently to reduce system costs and enable more rapid adoption of easy-to-install, highly reliable solar. To this end, the award also supports the production of a universal PV dock that allows various power converters, including the new microinverter, to easily dock to any PV module. The resulting system minimizes time on the roof for installers and, therefore, reduces the overall installation cost.
This project is funded by the SEGIS-AC program under the U.S. Department of Energy SunShot Initiative.
SolarTech: Sun Sets on Yesterday's Solar Permitting Practices
Lengthy reviews, high costs, and inconsistent procedures are a thing of the past for residents of San Francisco looking to install solar energy systems. San Francisco government administrators have spent the past decade working to address a range of solar market barriers. Now, they are able to serve as a model for other jurisdictions with the implementation of their recently published Streamlined Permitting Process report.
"Our permitting best practices document explains what we've done and how others can do it," said Danielle Murray, Renewable Energy Program Manager for the San Francisco Department of the Environment. "These steps have been put into practice successfully, including some of the recent changes like online submission."
San Francisco began offering electronic submission of solar permits this year, allowing applications for systems sized 4 kilowatts or less to be submitted and paid for online. As part of the SolarTech Consortium, the San Francisco Department of the Environment has made rapid strides such as this with support from DOE's Rooftop Solar Challenge, and previously though DOE's Solar America Cities program.
"Several exciting things will hit the street soon as part of our larger group effort," said David McFeely, Director of Industry Solutions and Grants for SolarTech and lead for the for the Northern California team. For example, the East Bay Green Corridor and Solar Sonoma County are taking the recently released California governor's office permitting recommendations and implementing them across multiple jurisdictions. This will allow solar integrators to work with the same process from one project site to another. The Clean Coalition is working on interconnection best practices, essentially doing for interconnection what Solar ABCs has done for permitting.
In addition, Solar Sonoma County just introduced the Clean Energy Advocate program, which helps to lower the cost of acquiring new customers. In addition, inspector training for solar building and fire codes has proven especially popular. Efforts focused on improved financing options and better training resources are planned for the months ahead before SolarTech's period of performance draws to a close in February.
"Everyone is just cranking away to the finish line," said David. "We're excited to do our part to make solar a more cost effective option for consumers, so hopefully we'll be able to say that we made a dent in solar soft costs in the Bay Area after we've wrapped up this project."
This project is funded by the Rooftop Solar Challenge program under the U.S. Department of Energy SunShot Initiative.
Terrafore: Thermal Storage Gets a "Hole in One"
Sometimes great things come in small packages. In the case of developing ways to more efficiently store solar energy, they come in tiny capsules. With support from a SunShot Baseload Concentrating Solar Power (CSP) Generation award, Terrafore has pioneered a new method to improve storage efficiency and reduce the cost of energy delivered from CSP plants.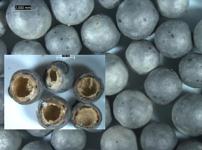 "SunShot has played a major role in this achievement," says Terrafore CTO Anoop Mathur. "We're a very small company and without SunShot, this could not have been done."
In large CSP installations, the cost of storing the high-temperature thermal energy collected is a significant determining factor for the plant's cost and efficiency. Partnering with the Southwest Research Institute and University of California, Riverside, Terrafore has found a cost-effective way to produce small capsules containing phase change material (PCM) salt in a spherical shell, which provides increased surface area for heat transfer.
The challenge was to find a way to encapsulate the salt in a shell that would not rupture when the salt melts and expands. The solution, called TerraCaps, contain a void within the capsules to provide space for salt expansion without the shell rupturing.
The capsules can contain a variety of PCMs and can be stacked inside the thermal energy storage tank to provide cascaded thermal storage. The TerraCaps cascaded thermal storage (patent filed) improves energy density, allowing the system to store 52% more energy than could be stored in a standard thermal storage material of the same volume. With further investment, the solution is expected to be commercialized in four to five years.
"Our project reduces the total costs and increases the efficiency of CSP plants," Mathur says. "And it is on track to achieve the SunShot cost goal."
This project is funded by the Baseload Concentrating Solar Power Generation program under the U.S. Department of Energy SunShot Initiative.