Amorphous Silicon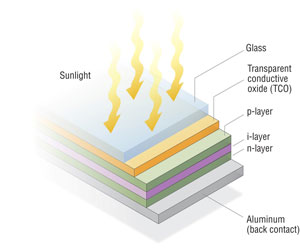 DOE has a proven track record of funding successes in amorphous silicon (a-Si)research. A list of current projects, summary of the benefits, and discussion on the production and manufacturing of this solar technology are below.
Background
Thin-film a-Si solar cells are commonly known as hydrogenated amorphous silicon, or a-Si:H. Currently, laboratory-scale cells achieve conversion efficiencies of 12.5%, whereas cells manufactured in high-volume processes have efficiencies ranging from 6% to 9%. Although these efficiencies are significantly lower than those of crystalline silicon solar cells, these thin-film cells are lighter, more flexible, and less expensive to produce. Amorphous silicon solar cells represented about 3% of the 2011 world market.
Research Directions
The efficiency of amorphous silicon solar cells decreases rapidly on its first exposure to sunlight, reaching a relatively steady state after about 1,000 hours of illumination. This phenomenon, first described in 1977 by D.L. Staebler and C.R. Wronski, results from the creation of additional dangling bonds that act as recombination centers.
Current research is focused on improving thin-film quality and reducing the Staebler-Wronski effect, by improved manufacturing techniques, as well as developing thin, flexible, waterproof roof shingles.
Learn more about the DOE SunShot awardees and the projects involving amorphous silicon below.
Benefits
The benefits of amorphous silicon solar cells include:
Less material: Amorphous silicon is a direct-bandgap material, which means that less silicon is needed for a-Si cells.
Inexpensive substrates: Amorphous silicon can be deposited on inexpensive substrates, such as glass, stainless steel, or even plastic (compared to bulk silicon wafers), which lowers costs.
Manufacturing options: Amorphous silicon can be deposited at temperatures below 300°C, making it a good candidate for flexible substrates and roll-to-roll manufacturing processes.
Production
By nature, amorphous silicon contains numerous crystal defects and requires hydrogen atoms to passivate the intrinsically high concentration of dangling bonds. Doping is detrimental to the quality of the absorber layer because it may lead to silicon dangling bonds—and therefore, to recombination centers. The minority-carrier diffusion lengths are only about 0.1 micrometer and amorphous silicon has a low carrier mobility; therefore, diffusion alone does not provide sufficient carrier collection. To increase the carrier collection, the concept of the "p-i-n solar cell" was introduced by Carlson and Wronski in 1976. The p-i-n structure generates an electric field across the thicker intrinsic (i) layer of the device, which possesses the best characteristics for absorption, photogeneration, and carrier lifetime. Carrier collection across the intrinsic region is via a drift mechanism—i.e., assisted by the electric field.
The most efficient commercial amorphous silicon PV cells are typically produced by silane-based glow discharge induced by radio-frequency (RF) voltages, or plasma-enhanced chemical-vapor deposition (PECVD), with other gases added for doping and alloying. The silane decomposes spontaneously at temperatures above 450°C, forming polycrystalline silicon. The concentration of hydrogen in silane can be used to control the growth of the material. Although there are multiple methods of producing amorphous silicon, such as hot-wire glow-discharge deposition and indirect microwave deposition, the most-common method remains RF PECVD.
For more information on amorphous silicon solar cells, visit the Energy Basics website.