Systems Integration Newsletter (April 2013)
The Systems Integration Newsletter provides quarterly e-mail updates specific to the solar energy systems integration industry, including project highlights, and podcasts. Update your subscriptions, modify your password or e-mail address, or stop subscriptions at any time on your Subscriber Preferences Page. Use your email to sign up today.
The DOE SunShot Initiative's Systems Integration program is pleased to launch the inaugural edition of SunShot Grid Integration News.
In this issue:
2013 DOE/CPUC High Penetration Solar Forum Convened in San Diego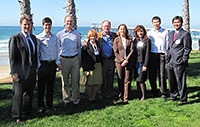 The U.S. Department of Energy (DOE) and the California Public Utilities Commission (CPUC) hosted the second High Penetration Solar Forum February 13–14, 2013, in San Diego, California. The Forum addressed progress made toward the CPUC's California Solar Initiative (CSI) Research, Development, Demonstration and Deployment (RD&D) Program goals as well as the DOE SunShot Initiative's strategic goal to make solar energy cost-competitive with other forms of electricity by the end of the decade. This year's workshop built on the success of the first DOE/CPUC High Penetration Solar Forum held in 2011.
Listen to Solar Grid Integration Podcast: Part 1
In the first segment of a two-part podcast series, SunShot Systems Integration Program Manager Kevin Lynn talks about solar grid integration, including the meaning of the term "grid integration" and how solar power plants interact with the national electricity grid.
Awardee Spotlight: Georgia Tech Gets Solar Pros Grinning With Faster Installations
With support from the SunShot Initiative Extreme Balance of System Hardware Cost Reduction (BOS-X) program, the Georgia Tech Research Institute (GTRI) is helping solar professionals install photovoltaic racking and mounting systems 75% faster than is possible with the standard approach. Using installer feedback, the GTRI team is developing innovative systems that not only reduce installation time but also cut balance-of-system hardware and associated labor costs by 50% over current industry best practices.
Fast Fact: Dive into DOE/CPUC Forum Results at May 15 Webinar
Register now for the Overview of the DOE/CPUC High Penetration Solar Forum webinar on Wednesday, May 15, from 2 to 3 p.m. EDT. Hosted by the SunShot Initiative, the webinar will provide information on the results of the second High Penetration Solar Forum that convened in February, including an overview of DOE's and CPUC's grid integration awards as well as future efforts.