Lenny Tinker
At the age of five, Lenny Tinker's fascination with solar began with his love of light. Collecting fireflies soon evolved into a curiosity of how light is emitted and absorbed to a genuine appreciation for the power of light.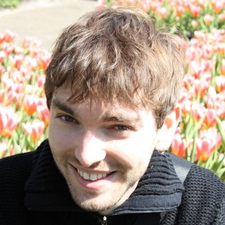 Lenny, an American Association for the Advancement of Science (AAAS) fellow, is using his drive to accelerate the flow of scientific information to facilitate new discoveries and collaborations. His inquisitive nature enables him to improve projects and processes by delving deeply into all aspects of their interworkings to build a holistic understanding—with the ultimate goal to advance the use of sustainable energy in the United States. "My interest in solar energy started very early in my life when I realized the magnitude of energy that the sun provides," Lenny said. "Our need for a clean and abundant energy source that is cost competitive with traditional fuels has motivated me throughout my research career."
As an AAAS Science and Technology Policy Fellow, Lenny supports the drafting, technical evaluation, and execution of several Solar Program awards focused on startup companies and next-generation photovoltaic technologies. Lenny earned an M.A. and Ph.D. in Chemistry from Princeton University. His research related to the conversion of visible light into chemical fuels or electricity earned him a Global Photonic Energy Corporation Martin and Edith B. Stein Solar Energy Innovation Award by the Princeton Institute for the Science and Technology of Materials in 2007. Recently, he completed an Alexander von Humboldt Fellowship at the Westfälische Wilhelms-Universität in Münster, Germany, focusing on organic LEDs.
Lenny's fellowship in Germany enables him to bring a unique perspective to the SunShot program. Inspired by the highly collaborative nature of the European grants he contributed to, Lenny is supporting the development of an online collaborative space for grant recipients that will accelerate the diffusion of information and the formation of new research networks. Additionally, Lenny is working with winners of competitive awards to facilitate their ability to fully reach their potential.
"A highlight of my fellowship thus far is watching my ideas come to fruition," Lenny said. "The SunShot mission is ambitious, and accomplishing this task will require innovation on many fronts."