Utility Technical Engagement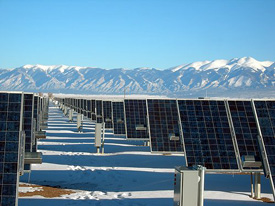 The U.S. Department of Energy (DOE) Solar Energy Technologies Program helps utilities develop better solar programs through its Utility Technical Engagement activity. The goal of the Utility Technical Engagement effort is to deliver key technical and informational assistance to utilities to promote their acceptance and use of solar technologies.
In 2007, DOE awarded the Solar Electric Power Association (SEPA) funds to provide technical engagement to utilities throughout the United States. The approximately $1 million awarded by DOE was combined with a greater cost-share from SEPA. SEPA provides information, support services, and analysis tools that relate to solar technologies, policies, and program design. SEPA is also conducting studies to help utilities plan for new business models to take advantage of solar technology. SEPA has developed the tools described here.
Designing Solar Programs
SEPA created these tools to help utilities design better solar energy programs and to provide them with networking opportunities that foster business-to-business, utility-to-utility, and utility-to-solar-industry relationships.
This Web-based utility solar toolkit provides tailored information for utilities with a variety of solar experiences. Utilities self-select their level of expertise, utility-type, or other relevant characteristics and will be provided with a variety of resources that are filtered for their particular level of experience.

Four solar tools help utilities understand solar technology and market applications:

Solar Solutions Tool is an easy-to-use solar strategy tool.
Peer Matching Tool finds solar or utility peer experts.
Data and Mapping Tool helps visualize solar project and announcement data.
Utility Solar Case Studies provides utility solar best practices.
Regional directors work with investor-owned utilities, municipal utilities, and rural electric cooperatives, as well as generation and transmission companies. These directors support utilities by facilitating the development and implementation of solutions. Working in a business-to-business format, they focus on facilitating technical assessment, networking, and evaluation of best practices, and strive to provide quick informational responses to utility staff.

Reports are available on technology, policy, and market issues that affect utilities and the solar industry, including utility solar business models and solar procurement issues.