Human Resource Development
Developing your tribal human resources is key to your success. As mentioned earlier, it is not possible to understate the importance of a tribal champion. Ideally, this champion needs to be supported by additional tribal expertise, or outside consultants until tribal capabilities have been established. The graphic below depicts the challenge facing the tribal champion or leadership team.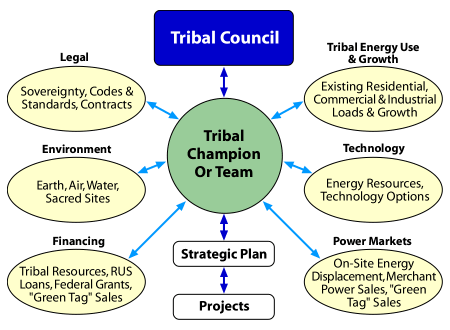 While this graphic is not comprehensive, it identifies the key input and interactions that must take place for successful project implementation. Tribal loads, technology options, and markets are the more technical elements that require investigation and dialogue. Legal, environmental, and financing issues are often more challenging than the more technical elements. The job of the champion is to integrate this information into a coherent, time-based strategic plan for review and concurrence of the tribal council. Projects can then move forward, in cooperation with the relationships that have been built with various tribal and other experts used to help assemble the plan.
Every tribe is different in the depth and breadth of its expertise. One of the benefits of strategic planning is that it can help build this internal capacity. Projects should also be viewed as a way to build tribal capacity, and contracts with outside vendors should insist on transfer of knowledge and training of tribal members to the maximum extent possible. There are many training courses being offered around the United States on each of these elements, and in several areas, the expertise of federal agencies can be tapped for assistance. But although outside experts may be able to assist in many important ways to the development of a strong strategic plan, the inspiration for the plan must ultimately reside within the tribe. The tribe must take the strategic plan to heart for it to be useful and for it to result in actions that benefit the tribal economy.