U.S. Department of Energy - Energy Efficiency and Renewable Energy
Tribal Energy Program
Assessing Energy Resources
Renewable Energy Resources on Tribal Lands
View and interactive map from the National Renewable Energy Laboratory showing renewable resources on U.S. tribal lands.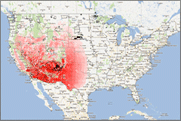 Assessing your tribe's energy resources—including renewable energy resources—will help you establish which opportunities to pursue. The extent and variety of available energy resources vary, as do the economics of developing them. Therefore, this is a key step in evaluating your options as part of the project development process.
Renewable Energy Resources
Renewable energy resources on tribal lands are either used directly or converted into electricity, which can be used on-site or fed into the power grid. The sole exception is biomass, which in some forms (such as wood) can be shipped short distances. Although tribes may choose royalty-stream arrangements for some large-scale renewable energy projects, they generally accrue benefits more rapidly by owning the projects themselves and using their energy production as they see fit.
Learn more about the various renewable energy resources, including:
Fossil Fuel Resources
Most fossil fuel resources on tribal lands are tapped in cooperation with industrial partners and provide a royalty stream back to the tribe for its use and benefit. In most cases, these projects contribute little or nothing to the tribe's energy self-sufficiency. But if natural gas is available—either on tribal lands or from outside tribal lands via a pipeline—it can serve as an energy source much like electricity. Natural gas can be used as a heating source and as a means of generating power on both small and large scales.
Learn more about fossil fuel resources.