U.S. Department of Energy - Energy Efficiency and Renewable Energy
Tribal Energy Program
Fossil Fuel Resources
Fossil fuel resources include coal, crude oil, and natural gas. Coal resources are generally located in the Rocky Mountains, the Appalachian Mountains, parts of the Midwest, and in extreme northern Alaska (see figure). Coal generally co-exists with coal-bed methane, a potential source of natural gas that is currently under development. A detailed report on U.S. coal reserves is available from the DOE's Energy Information Administration (EIA).
Some of the following documents are available as Adobe Acrobat PDFs. Download Adobe Reader.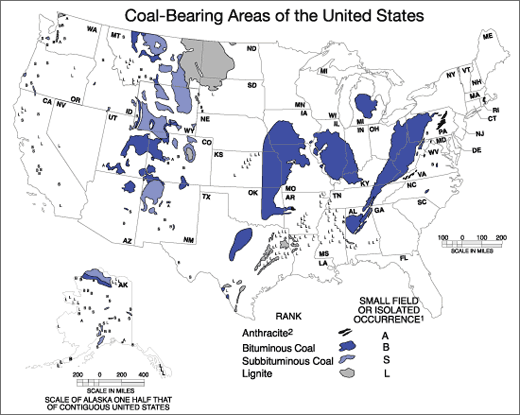 Note: If you cannot access the content of this map due to a disability, please contact the webmaster.
Crude oil reserves exist in Alaska and much of the West and Southeast, as well as in the Gulf of Mexico and offshore of California. Natural gas reserves are mainly in a swath stretching from Wyoming down to Texas and into the Gulf of Mexico. For state-by-state information on oil and natural gas reserves, see the crude oil and natural gas statistics chapters of the EIA report, U.S. Crude Oil, Natural Gas, and Natural Gas Liquids Reserves 2002 Annual Report.
A precise understanding of the fossil fuel resources available on your tribe's lands requires detailed geological studies. Included here are a series of reports, prepared for the Bureau of Indian Affairs (BIA) in the mid- to late-1970s, summarizing the status of mineral resource information at that time for 18 tribal reservations. A newer series of atlases, prepared in the late 1990s and early 2000s, include more detailed geological information, as well as known and potential oil and natural gas resources, or "plays," for 11 tribal reservations. The BIA's Division of Energy and Mineral Resources compiled these reports.
Reports are available for tribal lands located in the following states:
Colorado
Southern Ute Indian Tribe of the Southern Ute Reservation
Ute Mountain Tribe of the Ute Mountain Reservation
Montana
Assiniboine and Sioux Tribes of the Fort Peck Indian Reservation
Blackfeet Tribe of the Blackfeet Indian Reservation
Chippewa-Cree Indians of the Rocky Boy's Reservation
Confederated Salish & Kootenai Tribes of the Flathead Reservation
Crow Tribe
Flathead Reservation
Fort Belknap Reservation
Fort Peck Indian Reservation
Gros Ventre & Assiniboine Tribes of the Fort Belknap Reservation
Northern Cheyenne Tribe of the Northern Cheyenne Indian Reservation
New Mexico
Jicarilla Apache Tribe of the Jicarilla Apache Indian Reservation
Pueblo Tribes
Ute Mountain Tribe of the Ute Mountain Reservation
North Dakota
Fort Berthold Reservation
Lower Brule Sioux Tribe of the Lower Brule Reservation
Standing Rock Sioux Tribe of North and South Dakota
Three Affiliated Tribes of the Fort Berthold Reservation
Oklahoma
Osage Tribe
South Dakota
Cheyenne River Sioux Tribe of the Cheyenne River Reservation
Oglala Sioux Tribe of the Pine Ridge Reservation
Pine Ridge Reservation
Standing Rock Sioux Tribe of North and South Dakota
Utah
Northern Ute Indian Tribe of the Uintah and Ouray Reservation
Wyoming
Northern Arapaho Tribe and Shoshone Tribe of the Wind River Reservation