U.S. Department of Energy - Energy Efficiency and Renewable Energy
Tribal Energy Program
Geothermal Electricity Production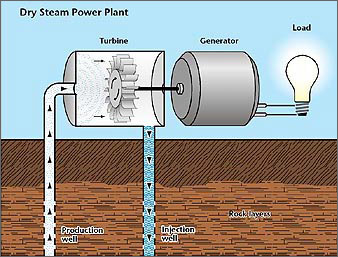 Geothermal power can be generated by modular units ranging in size from a few hundred kilowatts to more than 100 MW in size. There is about 2700 MW of installed geothermal power generating capacity in the United States today—most of it in California, the rest in Nevada, Utah, and Hawaii. The cost of producing geothermal electricity ranges from roughly 5 cents/kWh to 8 cents/kWh.
Geothermal power plants are reliable and efficient. They are seldom off-line for maintenance or repair, and are typically available to generate power 95% or more of the time. This compares favorably to coal and nuclear plants, which are typically available only 60% to 70% of the time.
Three technologies can be used to convert hydrothermal fluids to electricity. The type of conversion used depends on the state of the fluid resource (whether steam or water) and its temperature.
Steam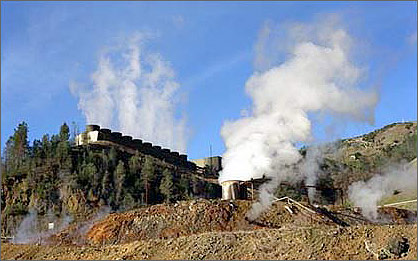 Conventional dry steam turbines are used with hydrothermal fluids that are wholly or primarily steam. The underground steam is routed directly to a turbine, which drives an electric generator. There are only two known underground resources of steam in the United States: The Geysers in northern California and Yellowstone National Park in Wyoming. Since Yellowstone is protected from development, the only dry steam plants in the country are at The Geysers.
High-Temperature Water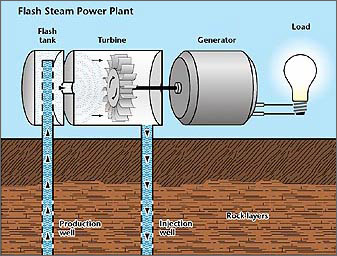 Flash steam technology is used with hydrothermal fluids above 360°F that are primarily water. This very hot water flows up through wells in the ground under its own pressure. In these systems, the hydrothermal fluid is sprayed into a tank held at a much lower pressure than the fluid, causing some of the fluid to rapidly vaporize, or flash, to steam. The steam is then used to drive a turbine, which drives an electric generator. If any liquid remains in the tank, it can be flashed again in a second tank to extract even more energy. Any leftover water and condensed steam are injected back into the reservoir, making this a sustainable resource. 
Moderate-Temperature Water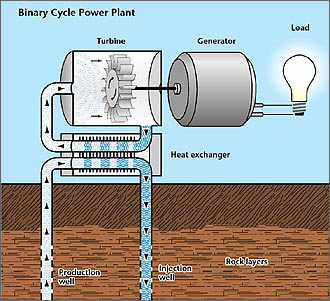 Binary cycle technology is used to generate electricity from water with temperatures of around 225°F - 360°F. In these systems, the hot geothermal fluid vaporizes a secondary working fluid—usually an organic compound with a low boiling point—which then drives a turbine and generator. The water is then injected back into the ground to be reheated. The water and the working fluid are kept separated during the whole process, so there are little or no air emissions. Moderate-temperature water is by far the most common hydrothermal resource.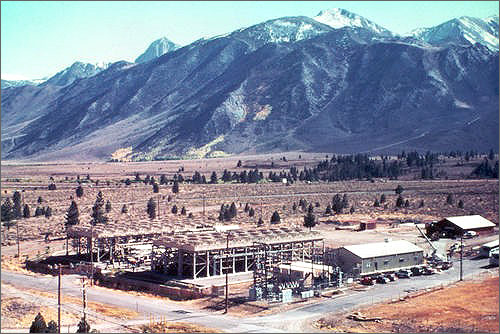 More Resources